Exploring Kayaking Options in Cabo
Whether you are an experienced paddler accustomed to a decked kayak or a novice open to trying a sit-on-top kayak. Here Cabo San Lucas Bay offers a range of kayaking options to suit all preferences.
For those not inclined to kayak in Cabo Bay, several places within driving distance offer excellent paddling, kayak rentals, and guided trips.
Immersive Kayaking Experiences in and around Cabo
Kayaking is a remarkable way to explore the breathtaking aquatic environment of Los Cabos. Including Cabo San Lucas, the Tourist Corridor, and San José del Cabo.
The region's tranquil waves and serene beaches make kayaking ideal for those seeking a peaceful water experience.
Paddling through these waters offers encounters with diverse marine life, such as pelicans, seals, sea lions, and more.
Self-Guided Kayaking Options in Cabo
For those preferring a solo experience without group outings or guides, kayak rentals are available from various vendors on Médano Beach.
You can easily rent sit-on-top kayaks in Cabo Bay and explore nearby attractions. The attractions include the Arch, the Sea Lion's Colony, Neptune's Finger, Lover's Beach, and others.
However, caution is advised, especially when cruise ships are in the bay due to increased boat traffic.
Early mornings offer calmer conditions, as Cabo life generally starts late. With most activities in the bay and its beaches commencing after 11 a.m.
Guided Kayaking and Snorkeling Tours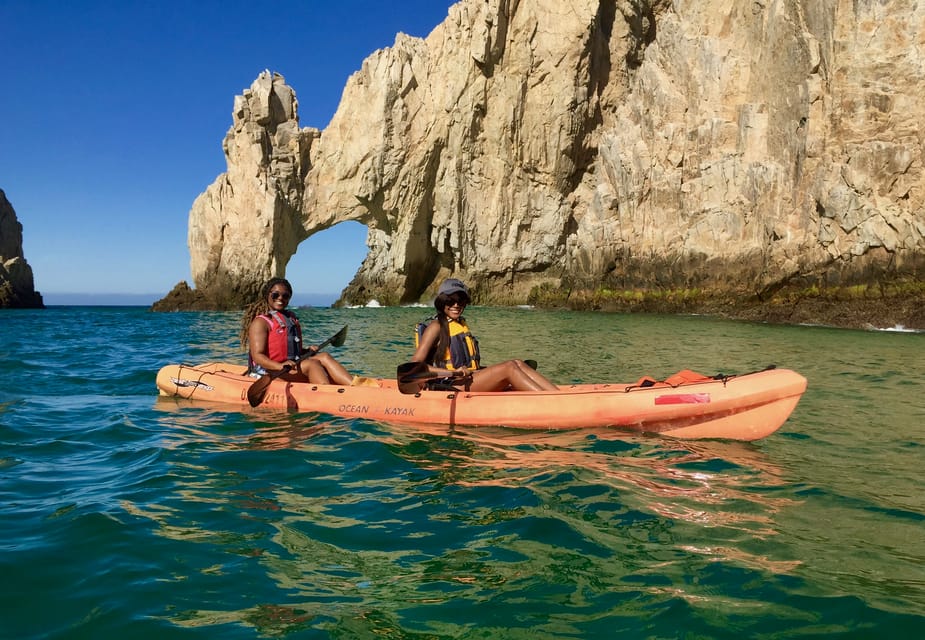 For a more structured experience, guided tours help travelers explore the natural beauty of Los Cabos and its surroundings, including activities like kayaking and snorkeling at places like Playa Santa Maria and Playa Chileno.
These tours offer close encounters with iconic landmarks like Los Cabos Arch and the sea lion colony, providing unique snorkeling experiences at locations like Neptune's Finger near Lover's Beach.
Exploring Top Attractions in Cabo San Lucas
The 3 Bay tour is popular, offering a chance to snorkel in vibrant natural reef ecosystems along the tourist route from Cabo San Lucas to San José del Cabo.
Starting from Twin Dolphin Beach, this excursion includes visits to Santa Maria Bay and Chileno Beach, both known for their pristine conditions and diverse marine life, making them ideal spots for snorkeling.

Kayaking | The Arch of Cabo San Lucas

Kayaking through top Cabo San Lucas attractions: The Arch, Lover's Beach, and Divorce Beach.

Glass-Bottom Kayaking in Cabo + Snorkeling Tour at Two Bays
Pricing for Kayaking and Snorkeling Tours
At the time of writing, the pricing for kayaking and snorkeling tours in Cabo is as follows:
Arch & Lover's Beach: A half-day Kayaking and snorkeling, approximately 3 – 3 1/2 hours, $80 USD per person (tax inclusive).
The 3-bay tour: A half-day Kayaking and snorkeling, approximately 3 – 3 1/2 hours, $80 USD per person (tax inclusive).
Kayaking in Cabo and its surrounding areas comes highly recommended, whether you opt for a self-guided experience or a tour operator.
Numerous tour booking companies are available, and many vacation spots offer this service. However, arranging your tour independently can be more cost-effective, albeit requiring more effort.