Chileno Beach: A Hidden Gem in Los Cabos
"Lugar hermoso para disfrutar una tarde con la familia, súper tranquilo." (in English, Beautiful place to enjoy an afternoon with the family. Super calm/quiet).
Chileno Beach is a hidden gem in Los Cabos.
This beautiful beach is situated on what is known as the Tourist Corridor. The highway is between the main towns, Cabo San Lucas and San José del Cabo, and is known for its calm and warm waters.
The beach is one of the few beaches in Los Cabos that is swimmable year-round. That is thanks to the protected calm and clear calm waters.
Chileno Beach, a favorite destination, offers abundant snorkeling opportunities. Mirroring a Caribbean shore, it invites underwater exploration and discovery.
Simultaneously, visitors enjoy the warm sun and swimming in crystal clear waters. Furthermore, Chileno Beach serves as an excellent location for sailing, kayaking, and other adventurous excursions.
Chileno Beach (Swimmable)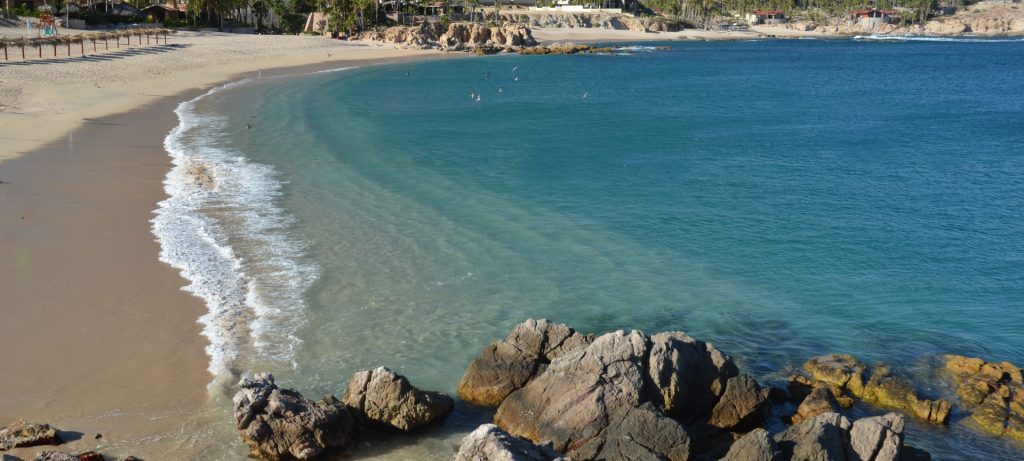 Unlike many other beaches in Los Cabos, Chileno Beach is swimmable year-round.
The clear and calm waters of the bay make it a safe spot for visitors to swim and enjoy the beach. Visitors can relax on the white sand beach or take a dip in the warm waters.
How to Get to Chileno Beach
To get to Chileno Beach, take the highway known as the Tourist Corridor (mentioned earlier).
Follow the signs to the beach, and you are sure to get there.
Visitors can also take a shuttle bus or taxi to the beach.
Chileno beach parking
Parking is available on-site for a fee, making it easy for visitors to access the beach.
Location and Access
Transitioning from downtown Cabo, it's only a few miles to an oasis of calm; an ideal spot to avoid the crowds and savor a tranquil beach day.
The geographical location of Chileno
Moving on to Chileno's geographical position, it's strategically placed along the Tourist Corridor, nestled between Cabo San Lucas and San José del Cabo.
Consequently, this location becomes a convenient access point for visitors from both towns.
Geographically speaking, the bay is encircled by rocky cliffs, causing the beach to boast serene, crystal-clear waters, perfectly inviting for swimming and snorkeling.
Methods of transportation to the beach
There are several ways to get to Chileno Beach.
Many visitors to the beach choose to rent a car or take a taxi. That is from their accommodation in Cabo or San José del Cabo.
If you're feeling adventurous, you can also take the local bus. The bus runs between the two towns and stops near the beach.
Some tour companies offer excursions to the area. This method allows spending the whole day over or only a few hours.
Spending a day or half-day with a tour company can be a convenient option. If so, consider all your cravings to be sorted.
Parking options and fees
If you're driving to the beach, there are several parking lots available for a small fee.
The beach has two main parking areas, one near the entrance and one closer to the water.
Prices vary depending on the time of year but expect to pay around $10-$20 USD for the day.
Keep in mind that parking can fill up quickly, especially during peak season, so it's best to arrive early if you're driving.
Services and Amenities
Chileno Beach is a place where you can relax and soak up the sun. The amenities available at this beach are just as inviting as the water.
Here are some services that you can expect to find during your visit:
Restrooms and Showers
After spending time in the crystal-clear water, it's nice to rinse off.
The beach has showers and restrooms available for your convenience.
You can wash away the sand and saltwater and enjoy the comfort of a private stall.
Rental Services Available
Chileno Beach has several rental services available for visitors.
Renting snorkeling gear, kayaks, or stand-up paddleboards is within reach and you can immediately go and explore the area's beauty.
When you're done, bask on the beach and plunge into the warm, tranquil waters of the bay.
Food and Beverage Options
Chileno Beach has a food truck and a bar on-site.
You can bask in the sun and enjoy your favorite drinks and snacks from the comfort of your beach chair.
The food options are perfect for those who love to savor local flavors.
Chileno Beach is a great destination for snorkeling, swimming, and sunbathing. The amenities available are designed to provide comfort and convenience.
With restrooms and showers, rental services, and food and beverage options, you can spend a day on the beach worrying only about the shade of your tan.
Chileno Beach is the perfect place to enjoy the clear waters of Cabo and take advantage of the snorkeling opportunities the region offers.
Activities Available at Chileno Beach
Chileno Beach is famous for its snorkeling opportunities.
The beach is home to various marine life, including colorful fish, sea turtles, and more.
Visitors can take a snorkeling tour or rent snorkeling gear to explore the clear waters of Chileno Bay.
Chileno Bay snorkel rental is available on-site, making it easy for visitors to explore the underwater world.
Chileno Beach Snorkeling
Snorkeling at Chileno Beach
Chileno Beach stands as one of Cabo's finest snorkeling spots. Consequently, those passionate about underwater exploration consider it paradise.
The relatively shallow, warm, and clear waters of Chileno Bay make it a perfect spot for underwater exploration.
Snorkelers can spot various marine life, including tropical fish, sea turtles, and more.
Best time of the year to snorkel
The best time of the year to snorkel at Chileno Beach is between June and November.
During that period, the sea is calm, and the visibility is excellent.
Additionally, during those months, the water temperature is the warmest. Comfortable for snorkelers to spend hours, not on the same day, exploring underwater life
Marine life that can be observed while snorkeling
The nature of the bay for quiet water cause an abundance of marine life to be present here.
Snorkelers can observe a variety of colorful fish and other marine creatures.
Snorkeling at Chileno Beach, you can commonly observe species such as angelfish, parrotfish, damselfish, and sergeant majors.
In addition, the underwater landscape is fascinating. All around are coral reefs and rock formations that provide a unique habitat for marine life.
Snorkeling gear rental
Many snorkeling tours to the bay provide snorkelers with all the equipment needed to go snorkeling. Snorkels, masks, and fins. Snorkeling equipment can also be rented on the beach itself.
Snorkeling at Chileno Beach is a fantastic experience. It offers visitors a chance to explore the beauty of the underwater world in Cabo.
With its calm and clear waters, this is an excellent opportunity for snorkelers to enjoy underwater life.
Chileno Beach is a hidden gem here in Los Cabos, offering visitors the chance to experience the beauty of a Caribbean shore without leaving the Pacific coast.
Kayaking and paddleboarding
Kayaking and paddleboarding are other popular activities available at Chileno Beach.
This bay and its beach are perfect for these kinds of water sports.
Visitors can paddle around the bay and enjoy the breathtaking scenery.
Guided tours
As mentioned, rental shops are available on the beach for visitors who want to rent kayaks or paddleboards.
Moreover, knowledgeable guides provide tours for those wishing to explore the area.
So much information and we aren't done
Whether you are a beginner or an experienced paddler, kayaking or paddleboarding at Chileno Beach is an excellent way to explore this beautiful destination.
Chileno Beach, nestled in Los Cabos, boasts calm and warm waters all year. Consequently, it's among the few swimmable beaches.
This environment perfectly supports water sports, snorkeling, and sunbathing.
In summary, anyone visiting Cabo San Lucas or San Jose del Cabo must explore Chileno Beach. Its warm, clear waters offer plentiful snorkeling experiences. Indeed, it forms an ideal location for a day in paradise.