Hola, travel enthusiasts! If you're planning a trip to the sun-kissed city of Cabo San Lucas, Mexico, you're in for a treat.
Known for its vibrant nightlife, stunning beaches, and mouth-watering cuisine, Cabo is a paradise waiting to be explored.
But before you pack your bags, let's talk about how to get around Cabo and Los Cabos. This guide will help you navigate the city like a pro, ensuring you make the most of your Mexican adventure.
Table summary of how to Get Around Cabo and Los Cabos
| Transportation | Pros | Cons |
| --- | --- | --- |
| Walking | Free, healthy, and allows for exploration. | It can be tiring and time-consuming. |
| Taxi | Convenient and readily available. | It can be expensive, especially without negotiation. |
| Shuttle | Hassle-free, often included in hotel packages. | It may not be available for all destinations. |
| Rental Car | It offers freedom and flexibility to explore. | It can be expensive and requires familiarity with local driving rules. |
| Public Bus | Cheap and runs frequently along the tourist corridor. | It can be slow and unreliable. |
| Water Taxi | A scenic and fun way to travel. | It may not be suitable for all destinations. |
| Ridesharing (Uber) | Convenient, familiar, and offers transparent pricing. | Availability can vary. |
Walking: The Best Way to Soak in the Scenery
Cabo San Lucas and nearby San Jose del Cabo, collectively known as Los Cabos, are incredibly walkable. Strolling through the city streets, you can soak in the local culture, explore hidden gems, and even burn off some delicious taco calories. So, don't forget to pack your most comfortable shoes!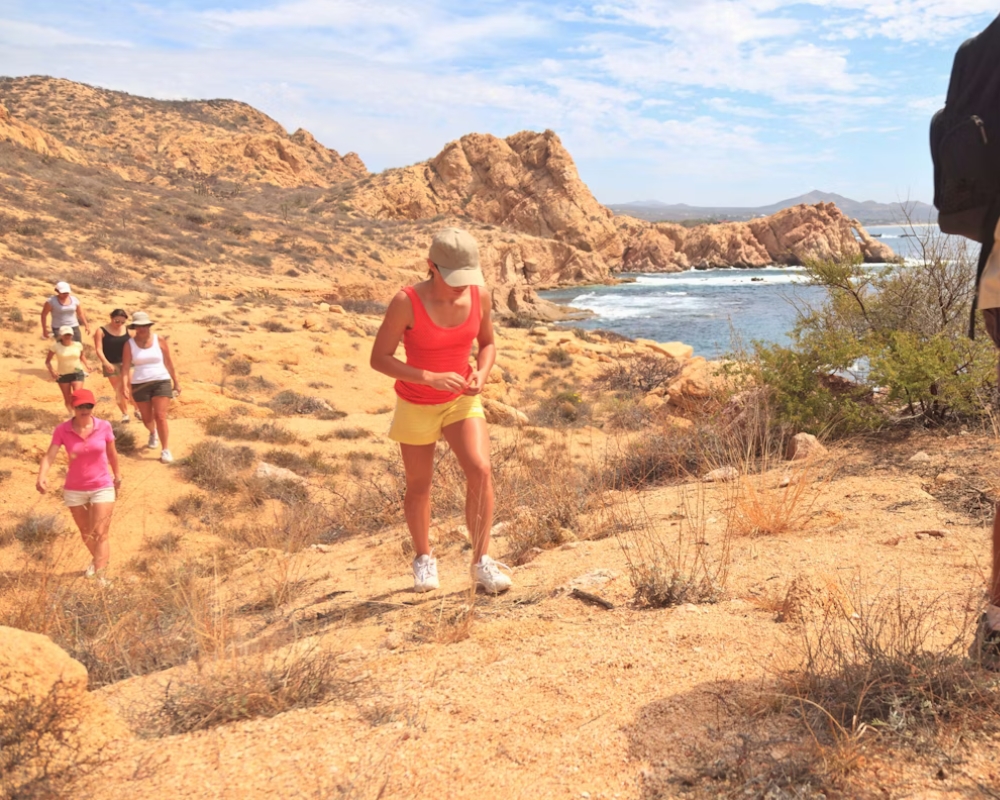 Taxi: Convenient but Pricey
Taxis are readily available in every town and convenient for getting around. However, negotiate the fare before getting in the car, as taxi drivers are known for potentially overcharging tourists.
As mentioned, taxis are everywhere in Los Cabos, but rates can be high, especially when traveling between Cabo San Lucas and San Jose del Cabo.
Shuttle: Hassle-Free Travel
Many hotels and resorts offer shuttle service to and from the airport and nearby destinations. This is a great way to get around without worrying about driving or taxis. It's hassle-free and often included in your hotel package, making it cost-effective.
Rental Car: Freedom to Explore
You can rent a car if you want more freedom to explore a town or two or the region.
Several car rental agencies are located in the main towns and the international airport, so you should be able to find a vehicle that fits your budget and needs. Just remember to familiarize yourself with local driving rules and always have a map or GPS handy.
Public Bus: A Cheaper Option
There is a public bus system in Cabo that can take you to most major destinations. However, the bus system can be slow and unreliable, so there are better options than this one if you are short on time.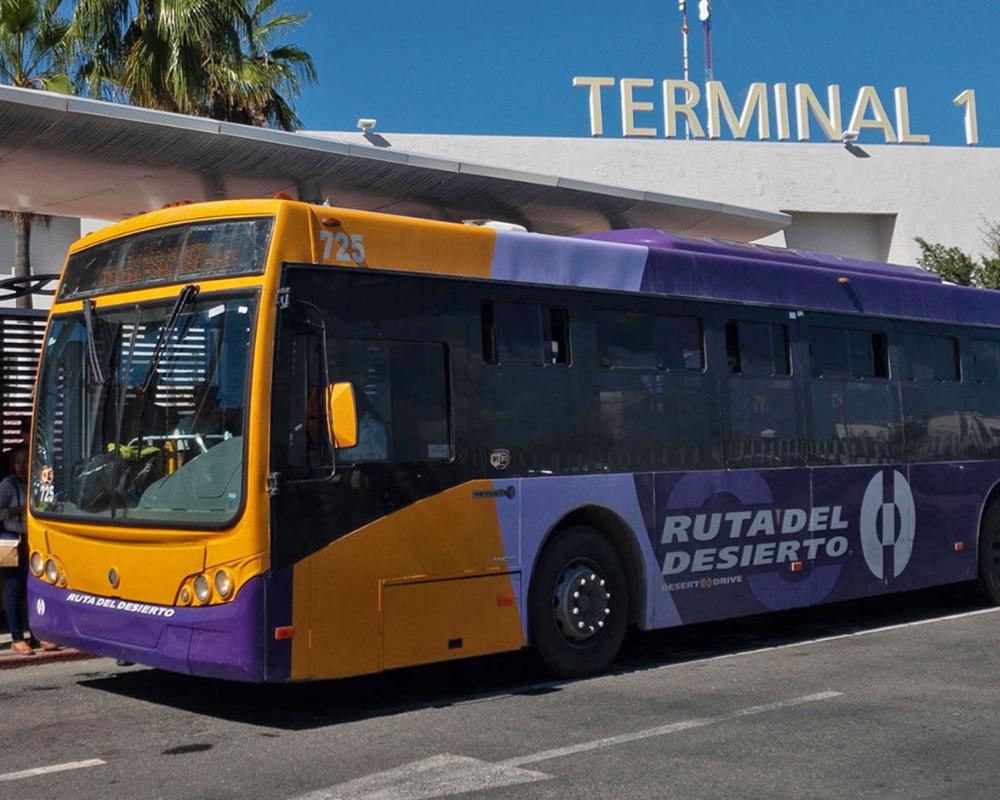 Buses frequently run along the tourist corridor between Cabo San Lucas and San Jose del Cabo. They will stop anywhere you ask unless they're express buses, which will stop at designated areas.
Water Taxi: A Scenic Ride
Water taxis are a fun and scenic way to get around Cabo Bay and the coastline.
They can take you to beaches, beach bars, restaurants, and other destinations along the coast.
Water taxis are available around the marina to most beach destinations. Rates are typically $10-$12 per person, making it an affordable and enjoyable option.
Ridesharing: Modern Convenience
Uber is available in Los Cabos and can be booked via its app on your smartphone. It's a familiar and comfortable option for many travelers, offering transparent pricing and the convenience of cashless payment.
The best way to get around Cabo depends on your needs and preferences.
If you are on a budget or want to avoid driving, a shuttle or public bus may be the best option.
A rental car is a good choice if you want more freedom and flexibility. And if you want a fun and scenic way to get around, a water taxi is a great option.
So, there you have it! Now that you know how to get around Cabo and Los Cabos, you're all set to plan your dream vacation.
The journey is just as important as the destination, so choose your mode of transport wisely and enjoy every moment of your trip. Safe travels, and see you in Cabo!
Bonus Tips: Must-Visit Spots in Cabo and Los Cabos
While you're navigating your way around Cabo and Los Cabos, don't miss out on these must-visit spots:
1. The Arch of Cabo San Lucas:
At the tip of the Baja Peninsula, the notable landmark of Cabo San Lucas is the El Arco rock formation. It stands out with its rugged taffy-colored appearance as it rises from the sea. It's a sight to behold!
2. Cabo San Lucas Marina:
Known for its vitality and nightlife, the marina offers a variety of attractions. It is regarded as providing the highest-quality services and amenities for luxury yachters.
3. Todos Santos:
A "Pueblo Mágico" (Magic Town) located on the Pacific side, with Mexican colonial architecture, arts and crafts, and artists' galleries. It's just an hour away from Cabo San Lucas.
4. Cabo Pulmo:
One of the jewels of the East Cape, Cabo Pulmo is a protected National Marine Park recognized as a World Heritage Site. It's approximately two hours away from San Jose del Cabo.
5. San José del Cabo:
This ancient city is rich in culture and history. The Pericles, an ancient civilization of agile runners and tireless walkers, had lived in the Los Cabos region long before tourism started.
6. Tourist Corridor:
The Tourist Corridor is a four-lane highway spanning 33 kilometers (20 miles) that links San Jose del Cabo and Cabo San Lucas. It offers breathtaking views of the desert and coastline.
Cabo and Los Cabos are about the destination and the journey. So, choose your mode of transport wisely, soak in the sights, and create memories that will last a lifetime. Happy traveling!