Lover's Beach (Playa del Amor) – A Hidden Gem of Cabo San Lucas
Nestled at the southernmost tip of the Baja peninsula lies a hidden gem of Cabo San Lucas – Lover's Beach (Playa del Amor).
With its white sand and jade-colored water, this postcard-perfect beach has long been a magnet for couples seeking romance.
But the beach is not just for lovers, it's also an ideal spot for kayaking and snorkeling. Here, we'll go through the best kayaking and snorkeling spots at Lover's Beach and give you a glimpse of the stunning beauty that awaits.
Getting to Lover's Beach
Being part of the Cabo San Lucas Marine Reserve, Lover's Beach is located near and on the way to Land's End. The beach can only be reached by water.
Daily, Cabo San Lucas offers day sails and boat tours to the beach.
Additionally, these tours provide opportunities to discover natural wonders. En route, actively watch for landmarks like Pelican Rock and the Sea Lion Colony.
Getting to the Beach can be an adventure in itself, as the beach can only be reached by water due to its remote location on Land's End.
Visitors have two main options to get there taking a local water taxi or booking a private tour. A third option is kayaking.
Water taxi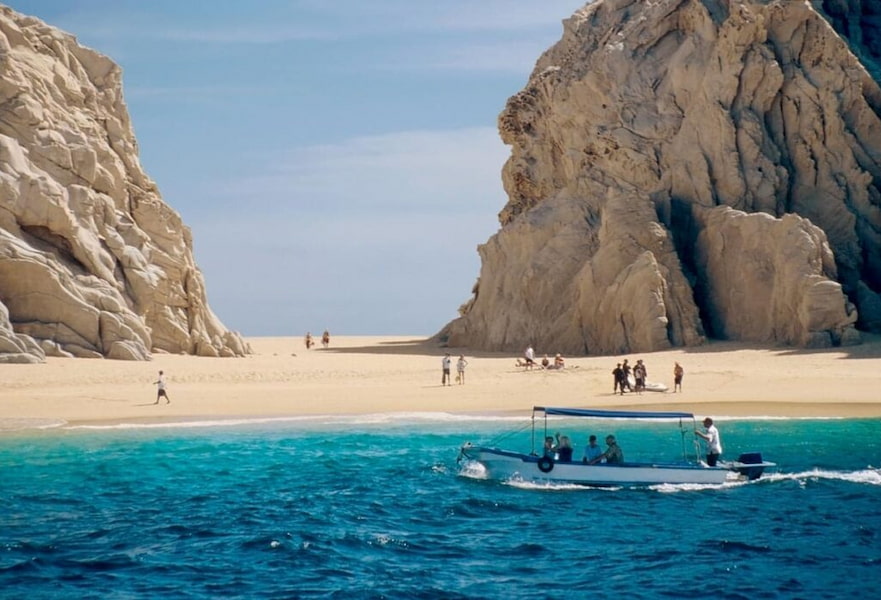 The water taxi option is a budget-friendly choice.
Getting on the water taxi may involve haggling with local boat operators at the marina or at Medano Beach to negotiate a price for the trip.
Upon boarding the taxi, passengers embark on a picturesque coastal journey. Meanwhile, en route to the beach, the driver will highlight key landmarks. Notably, anticipate glimpses of Pelican Rock, Neptune's Finger, and the sea lion colony.
Private tour
On the other hand, booking a private tour allows visitors to enjoy a more luxurious experience. Private tour includes the added benefit of having the boat anchored in front of the beach. This allows for easier access to the beach and the opportunity to swim towards it from the boat.
Private tours can range from romantic sunset cruises to family-friendly snorkeling excursions. There is a variety of options to suit different interests and budgets.
Ultimately, if visitors opt for a water taxi or a private tour, the journey to Lover's Beach is memorable.
Kayaking at Lover's Beach
The calm and clear waters of Lover's Beach make it an ideal spot for kayaking.
Whether you're a beginner or an experienced kayaker, the beach offers a variety of kayaking options.
Paddle your way through the rock formations that frame the beach, you can continue towards Land's End, the Arch, and the Sea Lions colony, and lay your kayak on the beach for a swim, rest, and wonder. Be sure to pack sunscreen, sunblock, and bottled water to cool off from the hot sun.
Kayaking around Lover's Beach is a popular activity for visitors to the area, and it's easy to see why.
Paddling through the calm jade-colored waters of the Sea of Cortez provides stunning views of the rocky shoreline. For example, the unique rock formations Neptune's Finger and the Arch rise from the water gives another perspective of how powerful and creative nature can be.
One of the highlights of kayaking in the area is a close-up, personal encounter with the sea lions.
Kayakers can paddle within a safe distance of the colony and observe these playful creatures in their natural habitat. (Yes, you can jump in. Just don't lose your kayak.)
Kayaking to and from Lover's Beach
Another advantage of kayaking around Lover's Beach is the opportunity to explore other nearby areas.
Across the bay is Médano Beach. The beach is located on the other side of Cabo San Lucas Bay and in front of Lover's Beach (It is a direct line). A second place to visit will be the Cabo San Lucas Marina. Especially if you like yachts.
To summarize, Lover's Beach is easily accessible by kayak and provides a different perspective of the area. It is a highly recommended activity, especially during the early morning hours.
Snorkeling at Lover's Beach
Don't forget to bring your snorkeling gear or rent some from one of the many Cabo snorkeling tours available.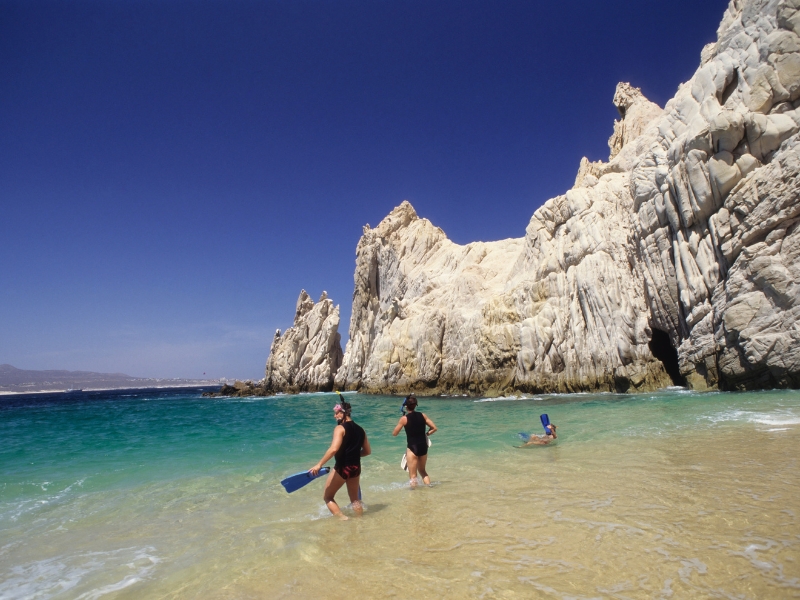 Snorkeling is another popular activity at Lover's Beach. The beach is relatively calm waters and those conditions are a perfect place for marine life to prosper.
Therefore, it is an ideal spot to explore the variety of aquatic life.
Standing with your back to the beach, looking at the bay to your right is Neptunels Finger, and to your left is Pelican's Rock. Both are excellent snorkeling spots.
While snorkeling, keep your eyes peeled for sea turtles, colorful fish, and sea lions. Mobula Rays are known to visit frequently.
Snorkeling at Pelican Rock
Pelican Rock is situated in close proximity to Lover's Beach.
Its location makes it an excellent spot for snorkeling enthusiasts to explore the rich marine life of Cabo Bay.
Visitors can expect to witness a variety of corals, colorful fish, eels, and even sea turtles swimming around the rock formations.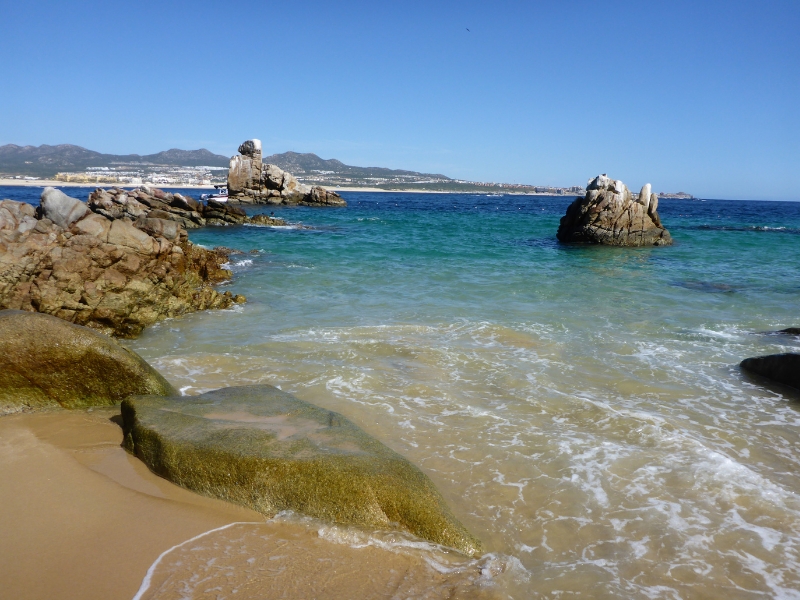 The clear and calm waters provide an ideal setting for snorkeling beginners.
Experienced divers can venture further out to discover the bay's depths, for example, the sand-falls dive site.
Snorkeling in Cabo San Lucas Bay is an unforgettable experience for all ages.
With the stunning Lover's Beach and the vibrant Pelican Rock within reach, snorkeling is made easy.
Divorce Beach
Lover's Beach is not the only beach at Land's End. Separated from Lover's Beach by a rocky outcropping is Divorce Beach.
While it may not have the same romantic charm as its neighbor, Divorce Beach is just as stunning and offers its own unique beauty.
Divorce Beach is located just a short walk away from Lover's Beach.
It is a popular destination for visitors seeking a more rugged and isolated beach experience.
The name of the beach originated from the powerful waves crashing onto the shore, creating a sense of separation and divorce between the two beaches.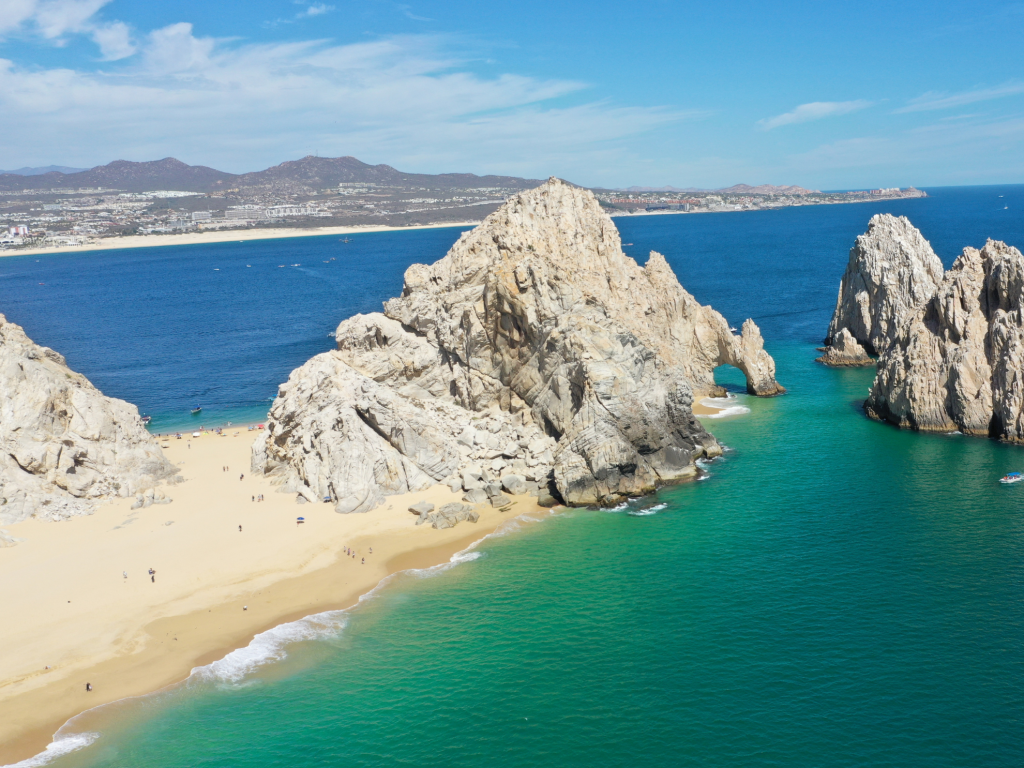 Unlike Lover's Beach facing the bay, Divorce Beach faces the open Pacific Ocean. Therefore the currents and waves on the divorce side can be strong and dangerous.
The beach is not suitable for swimming but only for admiring the stunning views of the ocean. Instead of swimming, visitors can enjoy walking along the long stretch of white sand.
As mentioned, although swimming is not recommended, adventurous surfers may find the waves at Divorce Beach to be exhilarating and challenging. Some surf and skimboard competitions take part at Divorce Beach.
The beach is also a popular spot for sunbathing and basking under the sun. Visitors can relax on the sand and soak up the sun's warm rays while listening to the crashing waves.
Despite its name, Divorce Beach is a beautiful and dramatic location.
The scenery offers a unique and unforgettable experience for those who make the effort to get there.
And finally
Lover's Beach and Divorce Beach are two of Cabo San Lucas' most beautiful natural wonders.
Whether you're looking for a romantic getaway or an adventure-filled day on the water, the beach has something for everyone.
With its stunning beauty and various activities, Lover's Beach is a must-visit destination for anyone traveling to Cabo San Lucas.