Offering 5 Best Snorkeling Spots in Cabo, the crystal clear waters along the Sea of Cortez host diverse marine life, perfect for viewing while snorkeling.
Cabo San Lucas is world-renowned for its incredible snorkeling opportunities. From beginners to advanced snorkelers, everyone can enjoy these top snorkeling destinations.
Cabo San Lucas Marine Park: A Top Spot Among the 5 Best Snorkeling Spots in Cabo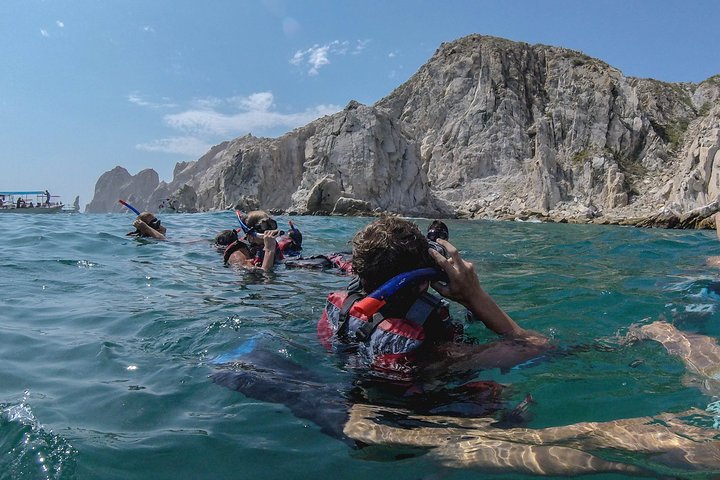 The Marine Park near Lands End is one of Cabo's most popular snorkeling destinations. It is a highlight of Cabo's 5 Best Snorkeling Spots.
The protected waters allow for excellent visibility and an abundance of tropical fish.
Snorkelers can often spot colorful parrotfish, angel fish, and butterfly fish. Occasionally, sea turtles come close to shore, adding to the experience.
Santa Maria Bay: Calm Waters for Snorkeling
Santa Maria Bay, a serene haven on the Pacific side of Cabo, is another gem among the 5 Best Snorkeling Spots in Cabo.
The bay's calmer waters, sheltered by rock formations, are home to playful sea lions and vibrant schools of fish.
Snorkelers can also discover stingrays buried in the sand, starfish, and octopus, making every dive an adventure.
Chileno Bay: Ideal for Beginners and Advanced Snorkelers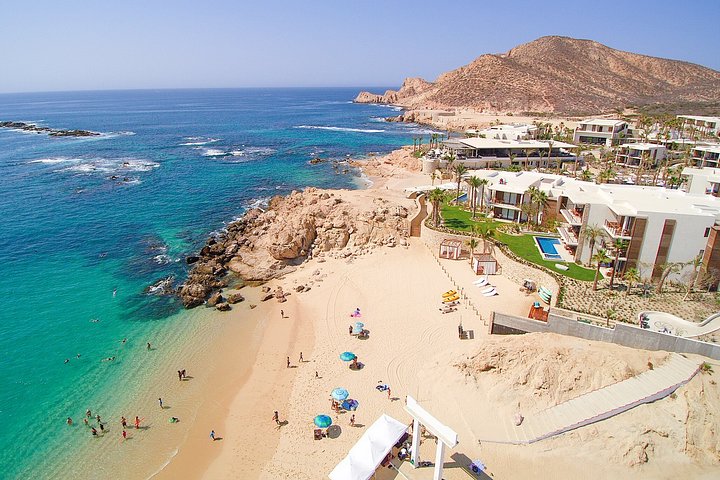 Chileno Bay features a long swimming beach with fantastic offshore snorkeling, a favorite in Cabo.
The reef starts in shallow waters, making it ideal for beginner snorkelers.
Advanced enthusiasts can swim farther to view more significant marine life amidst the currents.
Blug flag awarded beach
Chileno Bay has earned the Blue Flag award for its distinction because of its clear water, clean coasts, safety, access to quality services, and environmental management criteria.
Such a label indicates high ecological and quality standards for visitors. The award confirms the beach to be an attractive spot for snorkeling and recreational activities.
Pelican Rock: A Unique Habitat for Tropical Fish
Pelican Rock, located near the arch at Lands End, is one of the 5 Best Snorkeling Spots in Cabo, rewarding snorkelers with sights of colorful corals, sponges, and sea fans.
The unique rock formations provide the perfect habitat for tropical fish like angelfish, damselfish, and wrasses.
Pelican Rock is accessible only through guided tours. It promises an exclusive underwater experience.
Lovers Beach: Discover Unique Marine Life
The sheltered cove of Lovers Beach, known for its smooth water conditions, offers snorkelers a chance to view unique underwater rock formations and a variety of marine life.
The shallow waters are perfect for spotting unusual creatures like nudibranchs, adding to the list of reasons why it's among the 5 Best Snorkeling Spots in Cabo.
With its prime location where the Pacific Ocean meets the Sea of Cortez, Cabo offers world-class snorkeling for all levels of adventure seekers.
Each of these 5 Best Snorkeling Spots in Cabo brings something unique. Which spot will you explore first on your Cabo snorkeling vacation?