Diving Delight: Neptune's Finger
Are you an adventurous diving enthusiast looking for a new exciting spot to explore? Look no further than Cabo San Lucas, Mexico, home to one of the most awe-inspiring diving sites, Neptune's Finger.
This unique rock formation, located in the Los Cabos area of Baja California Sur, is not only a stunning natural wonder but also the gateway to experiencing the breathtaking Sand Falls.
As you descend into the crystal-clear waters of the bay, your eyes will be drawn to the magnificent reef and marine life that surround Neptune's Finger. From colorful tropical fish to magnificent coral formations, this underwater world is a diver's paradise.
As you venture deeper into the water, you'll be met with the magnificent Sand Falls, a rare phenomenon that cascades down a series of small cliffs, creating a waterfall effect of sand.
Don't miss the opportunity to explore this amazing underwater world and experience the thrill of diving at Neptune's Finger.
Whether you're a seasoned diver or a beginner, this natural reserve has something for everyone. Pack your scuba gear, grab your sense of adventure, and head down to Cabo San Lucas to discover the beauty and wonder of Neptune's Finger.
Neptune's Finger History and Location
Neptune's Finger is a natural rock formation that is located near Lover's Beach in Cabo Bay. This small area is only accessible by boat, making it a secluded and exclusive dive site for scuba divers and snorkelers.
Physical Features and Unique Characteristics
The monument is a tall, narrow rock formation that juts out of the sea floor, resembling a finger pointing towards the sky. It is a distinctive rock formation that stands tall and proud in the waters off the coast. This magnificent underwater tower rises to an impressive height of around 60 feet (18 meters) from the seafloor, making it one of the most recognizable and awe-inspiring landmarks in the area.
The physical features of Neptune's Finger are truly unique and fascinating. The rock formation is made up of a series of towering spires and ridges that are covered in an array of colorful marine life. There you can find hard and soft corals, sponges, and sea fans. The fingers of the rock structure reach up toward the surface of the water, forming an underwater forest of sorts that is teeming with activity and life.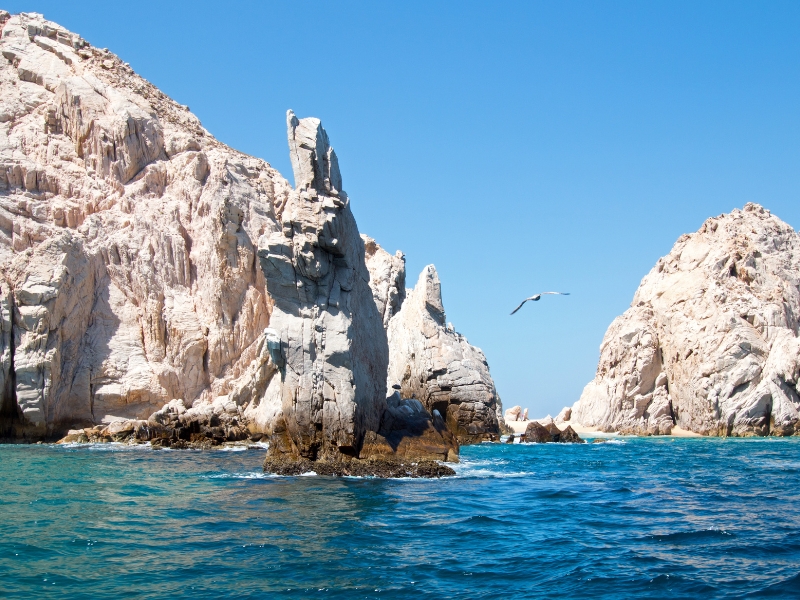 Beneath the waves, vibrant coral covers the rock, and tropical fish reside there. Neptune's Finger is home to a diverse marine life, such as schools of tropical fish, octopuses, and sea turtles, making it popular with divers and snorkelers worldwide.
The Sand Falls on the east side of the rock formation create a stunning visual effect and add to the natural beauty of the area.
Neptune's Finger: The access point to The Sand Falls
The rock formation is not only a diving destination but also an entry point to explore the dazzling Sand Falls. This natural unique phenomenon is where the sand on the sea floor cascades down a series of small cliffs, creating a waterfall effect. Not be missed. However, to witness the phenomenon, one must first scuba dive to Neptune's Finger.
Sand Falls at Cabo San Lucas Bay

Video by: Manta Scuba
Both the Sand Falls and Neptune's Finger are part of the Cabo San Lucas Natural Reserve, which is dedicated to preserving the marine and aquatic life of the area, including the beautiful reef and many dive sites in the surroundings.
The reserve houses a variety of sea creatures like tropical fish, coral formations, and visiting whales. Diving enthusiasts should explore the reef and its diverse marine life for an unforgettable experience that should be added to their bucket lists.
Activities and Things to Do at Neptune's Finger
Neptune's Finger is a popular dive site for scuba divers due to its unique rock formation and diverse marine life. Visitors can expect to see a variety of sea creatures, including sea turtles, eels, and schools of colorful fish. The clear water and underwater visibility also make it a perfect spot for snorkeling and other aquatic activities. Visitors can also enjoy sunset watching from the beach or a boat in the area.
Importance of Conservation Efforts
Conservation efforts are crucial to preserving the beauty and natural environment of Cabo bay. Local organizations in Los Cabos, such as the Cabo Pulmo Marine Preserve, are working to protect the coral reefs and sea life in the area. Visitors can support these efforts by following sustainable tourism practices and being respectful of the oceanic environment.
Local Conservation Efforts in Cabo Reserve
The conservation efforts have been successful in protecting the coral reefs and marine life in the nature reserve. The Cabo Pulmo Marine Preserve, for example, has seen a significant increase in the number of fish and marine creatures. That is due to the conservation efforts. These conservation efforts not only benefit the environment but also contribute to the overall experience and enjoyment of visitors. The nature reserve specifically and Cabo bay generally.
Conclusion
Neptune's Finger is a unique and stunning rock formation that is a must-see for anyone visiting Cabo San Lucas. Its natural beauty, diverse marine life, and secluded location make it a perfect spot for water activities. Scuba diving, snorkeling, kayaking, and swimming are common water sports in the bay. By supporting local conservation efforts, visitors can help preserve the natural environment of Neptune's Finger for generations to come.