Cabo San Lucas is world-famous for its incredible snorkeling opportunities and the best snorkeling tours. While advanced swimmers can snorkel from shore in some spots, joining a guided snorkeling tour maximizes your chances of having a fantastic experience.
Types of Snorkeling Tours
Boat Tours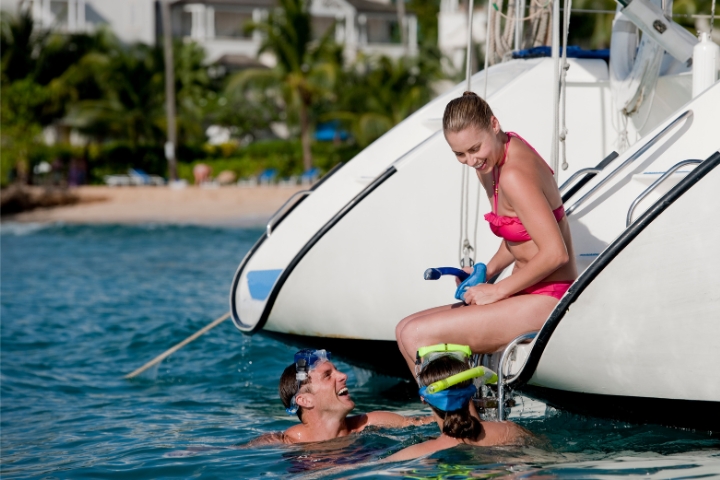 The most popular type of snorkeling tour uses boats to reach prime spots offshore. Those are the best Cabo snorkeling tours.
Boat tours can be on sailing catamarans, yachts, or pangas, depending on the operator. These tours allow you to see more areas and avoid strong currents.
Guided Shore Tours
Some companies offer guided shore tours taking you to snorkel spots accessible from the beach. Guides assist you with entering and exiting the waters safely. Shore tours may be better for those prone to seasickness.
Guided shore tours are, in most cases, private tours where you hire the boat and its crew. Part of the tour is to anchor in front of this beach or that bay. The crew will then take you to the beach and guide you there.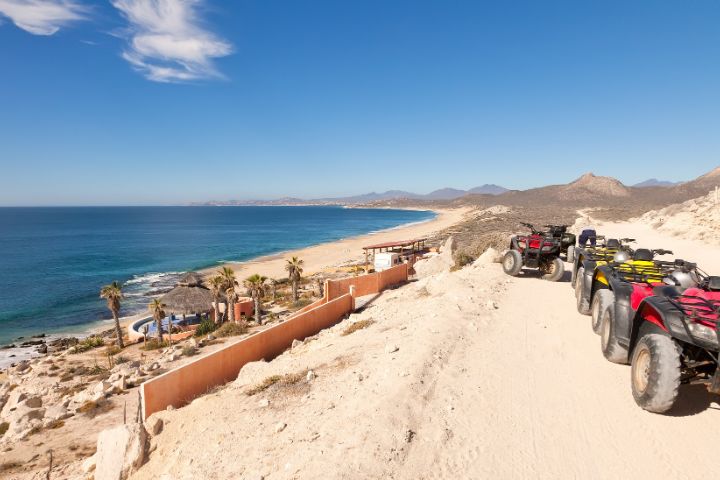 Those can also be combined with other activities such as ATV and horseback or camel riding.
Snorkeling Cruises
Full snorkeling cruises provide all-inclusive experiences with meals, drinks, and stops for snorkeling. Cruises allow for longer days on the water. However, they often accommodate larger groups.
Snorkeling Cruise Highlights / Itinerary
Embarking on a journey around the land's end offers a visual feast, where the iconic Pelican's Rock stands as a sentinel beside the famed Arch, a natural gateway carved by time.
Here, the sea-lion colony basks in the sun, indifferent to the awe they inspire in visitors.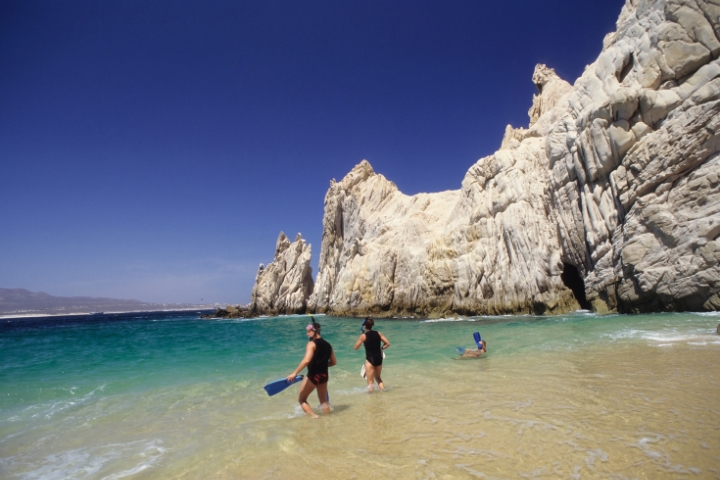 The beaches, kissed by the Pacific and the Sea of Cortez, offer a unique blend of tranquility and the raw power of nature.
As you cruise smoothly out of Cabo San Lucas Bay, the experience is elevated by the personal, upscale service that caters to your every need, ensuring that your adventure is as comfortable as it is memorable.
The itinerary is punctuated with opportunities to capture memories, with the Arch providing a dramatic backdrop for photographs—a moment frozen in time, with the option to use your camera to capture that perfect shot.
For those who seek to immerse themselves further into the beauty of this aquatic paradise, snorkeling amidst a kaleidoscope of tropical fish reveals the vibrant life beneath the waves.
The journey is not just about sightseeing; it's an immersive experience. Sailboats gracefully glide by Pelican's Rock, while yachts glimpse the luxurious at Santa Maria or Chileno bays.
All this, accompanied by a light lunch and an unlimited premium bar, ensures that your senses are as delighted as your spirit of adventure.
What to Look for in a Tour
Small Group Sizes
For the best Cabo snorkeling tour experience, look for tours capping groups at 12 passengers or less. Small groups mean more personal attention from your guide.
There are plenty of shared tours. However, the larger the boat, the more crowded and noisy it gets.
Quality Gear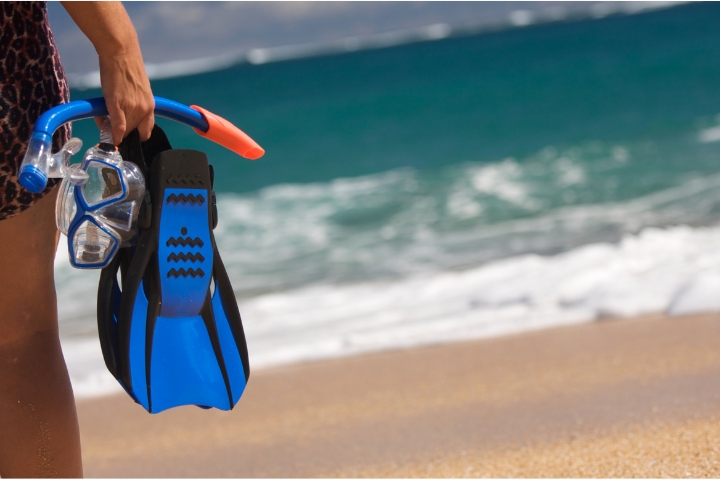 Reputable companies provide quality snorkel gear like masks, fins, and snorkels, so you don't have to bring your own.
Make sure they offer instructions if you are new to snorkeling.
Knowledgeable Guides
Look for experienced guides who are educated about the local marine ecosystems. Good guides will share facts and point out specific species and sites.
Safety Record and Reviews
Research companies to ensure they have strong safety records and excellent reviews. This minimizes risks and maximizes your chances of a fantastic tour.
Top Snorkeling Tour Operators, most recommended
Cabo Sailing Ocean Adventures – Best for private, luxury, and mid to small-share groups
Cabo Adventures – Best for mid-size share groups
Cabo Expeditions – Best for mid and large-size share groups
Cabo Rey – Best for large share groups
Pez Gato – Best for large share groups
Booking Your Tour
Reserve spots directly through the company site or hotel concierge.
Read all details thoroughly and confirm the time and meeting location. For flexibility, consider private charters.
Bottom Line
For the best way to discover Cabo's incredible underwater world, join a guided snorkeling tour.
With access to top spots and expert guidance, tours allow for unique snorkeling experiences.