Ready for an adventure at Medano Beach, Cabo? This beach is a slice of paradise, offering more than just sun and sand. From thrilling water sports to iconic landmarks, there's something for everyone. With a vibrant atmosphere and a plethora of dining and shopping options, it's the perfect spot for an unforgettable day.
Short Summary
Swimmable Beach: It is one of the few swimmable beaches in Cabo San Lucas, perfect for water sports or a relaxing dip.
Iconic Landmarks: The beach is part of the area home to landmarks like The Arch and Land's End, offering stunning views and photo opportunities.
Dining and Shopping: From beachfront restaurants to local shops, there's a wide range of dining and shopping options within walking distance.
Activities: Whether you're into jet skiing, parasailing, or simply sunbathing, here on the sand there is a variety of activities to keep you entertained.
Vibrant Atmosphere: With its lively beach clubs and exciting nightlife, visiting here promises a fun-filled and memorable experience.
An Unforgettable Day at Medano Beach
Welcome to Medano Beach, or "Playa el Médano" in Spanish, a vibrant gem nestled in the heart of Cabo San Lucas. Known for its soft sand, stunning views, and as part of stunning Cabo San Lucas Bay, this beach is a must-visit destination in the Los Cabos region.
Medano Beach is known for its lively beach clubs. These clubs offer a blend of relaxation, entertainment, and delicious cuisine, making them a favorite among visitors.
Moreover, the beach's proximity to the Cabo Marina adds to its appeal. This bustling marina is a hub for luxury yachts, fishing charters, and waterfront dining.
Additionally, Medano Beach is renowned for its surf. Whether you're a seasoned surfer or a beginner, the beach offers waves for all skill levels.
Lastly, the nightlife at Medano Beach is nothing short of exciting. With numerous bars and clubs, the beach comes alive as the sun sets, offering a memorable night out.
The Allure of Medano Beach
Explore Medano Beach
Medano Beach stretches over two miles, offering ample space for relaxation and fun. Its soft, golden sand is perfect for sunbathing or building sandcastles. Moreover, the beach provides breathtaking views of the Sea of Cortez and Land's End, making it a photographer's paradise.
Popularity Among Tourists and Locals
Interestingly, Medano Beach isn't just a tourist hotspot but also a local favorite. Its vibrant atmosphere and wide range of activities draw people from all walks of life. Here on the beach you can rent a kayak, play beach volleyball, and visit a spa.
Medano Beach is just across from the homes of several iconic landmarks. The Arch, a natural rock formation, Lover's Beach and Land's End are all sights to behold. Additionally, water sports enthusiasts can enjoy jet-skiing, paddleboarding, and snorkeling.
Thrilling Activities
As mentioned the beach is a hub for thrilling water sports. Parasailing offers breathtaking views of Cabo's coastline. Additionally, kayaking is a popular choice for those seeking a serene yet active experience. For adrenaline junkies, jet skiing provides an exhilarating ride across the azure waters.
Moreover, rental options abound. Glass bottom boats offer a unique perspective of the vibrant marine life. Similarly, paddleboards are available for those wanting a full-body workout while enjoying the scenic beauty.
Iconic Landmarks
Next, let's explore the iconic landmarks. The Arch, el Arco, a natural rock formation, is a sight to behold. It's a perfect backdrop for memorable photos.
Land's End, another natural marvel, marks the meeting point of the Pacific Ocean and the Sea of Cortez. It's a must-visit for nature lovers.
Lover's Beach, nestled near Land's End, is a secluded paradise perfect for couples. Its tranquil ambiance makes it an ideal spot for relaxation. You can walk to the other side and view the Pacific Ocean.
Lastly, Pelican Rock, a renowned snorkeling hub, teems with colorful marine life. It's a paradise for underwater exploration enthusiasts.
Dining and Shopping
Next, the beachfront is lined with numerous restaurants and shops. From authentic Mexican cuisine to high-end boutiques, there's something for everyone.
Dining Options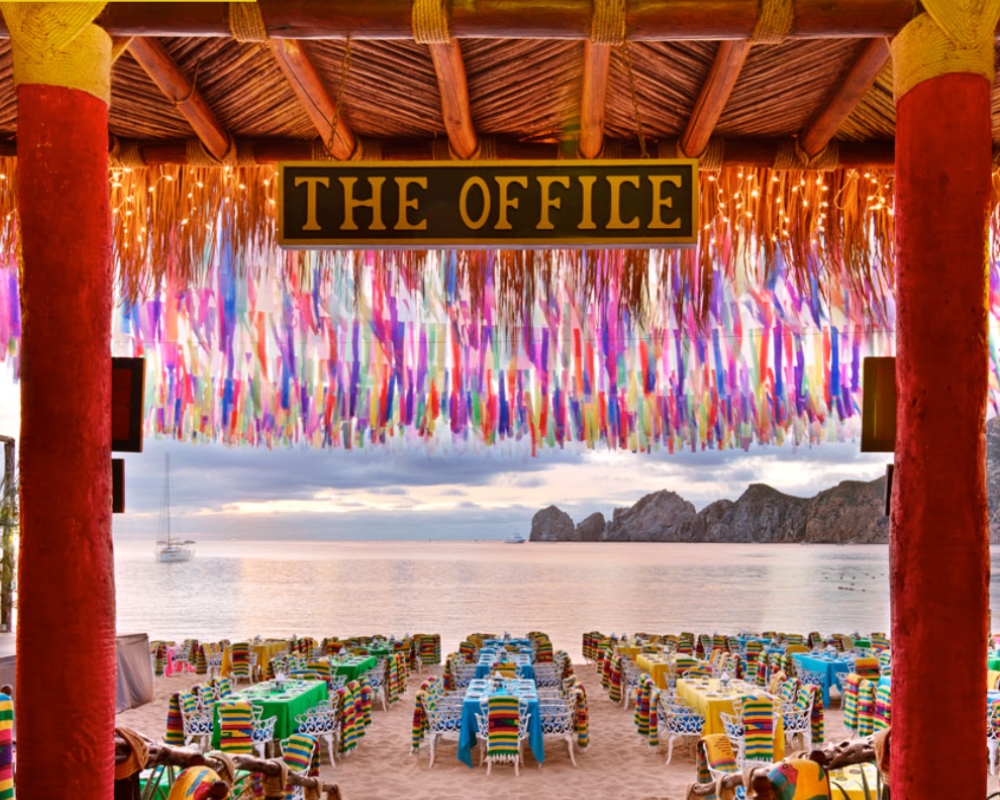 Firstly, Medano Beach offers a variety of dining options. The Sandbar beach bar, for instance, is a popular spot. Besides serving delicious food and drinks, it also offers a unique beach massage service.
Moreover, the Mango Deck is another must-visit. Known for its lively atmosphere and mouthwatering cuisine, it's a favorite among tourists and locals alike.
Additionally, The Office restaurant provides a unique dining experience right on the beach. Its authentic Mexican cuisine is a delight for the taste buds.
Shopping and More
Next, the beach's proximity to Cabo San Lucas town center adds to its appeal. A short walk takes you to a variety of shops, local taquerias, and additional restaurants.
Whether you're looking for a relaxing massage, a delicious meal, or a shopping spree, Medano Beach has it all within walking distance.
Positive Experiences
Undoubtedly, Medano Beach offers a memorable experience. However, it can get crowded during peak season. So, plan your visit accordingly to enjoy a more serene atmosphere.
Medano Beach is one of the few swimmable beaches in Cabo San Lucas. This makes it a favorite among families and water sports enthusiasts. (A Blue Flag Beach)
Moreover, the beach is a hotspot for spring break celebrations. Its lively atmosphere and stunning views make it the perfect place to let loose and enjoy.
Additionally, its location at the very tip of Baja California and the southernmost tip of the North American continent adds to its allure.
Lastly, passing vendors selling art, shirts, sombreros, and jewelry add a unique charm to the beach experience.
A Final Word on Medano Beach
In conclusion, Medano Beach, located in Baja California Sur, is a swimmable beach in Cabo San Lucas. Its soft sand, stunning views, and vibrant atmosphere make it a captivating destination.
Moreover, its popularity among tourists and locals alike is a testament to its appeal. Whether you're seeking thrilling water sports, delicious cuisine, or unique shopping experiences, Medano Beach has it all.
Furthermore, the beach offers a unique blend of relaxation and excitement. From the lively beach clubs to the tranquil massage services, there's something for everyone.
Lastly, the passing vendors, the iconic landmarks, and the unforgettable spring break celebrations all contribute to the positive experience at Medano Beach.
In essence, Medano Beach promises an unforgettable experience, making it a must-visit spot in Cabo San Lucas.