Land's End Cabo, is the iconic edge of Los Cabos where raw nature meets the rich Mexican culture.
Packed with dramatic views, thrilling adventures, and tranquil spots, it's an unforgettable destination that holds something for everyone.
Be it watching the sun dip below the horizon from El Arco or strolling on Lover's Beach, the charms of Land's End are numerous.
Land's End: short summary
El Arco – An iconic natural arch that forms a gateway to the Pacific. El Arco is a must-see sight, where you can witness the mesmerizing play of waves at the point where two seas meet.
Lover's Beach – A hidden beach offering a unique blend of serenity and scenic beauty. At Lover's Beach, the fine sand, azure waters, and tranquil atmosphere combine to create a perfect romantic retreat.
Wildlife – Spot diverse marine life and seabirds in their natural habitat. You'll have the opportunity to observe an array of unique fauna, including seals, pelicans, and whales during certain seasons.
Water Sports – From kayaking to paddleboarding, there's a water adventure for everyone. Water sports enthusiasts will find a multitude of options, each offering a unique perspective of this incredible landscape.
This site is a must-visit for travelers seeking adventure, relaxation, and an unforgettable experience.
Land's End Geographical Location
Land's End is a natural landmark located at the southernmost tip of the Baja California Peninsula in Cabo San Lucas, Mexico, and is part of the Cabo San Lucas Marine Reserve.
This rocky formation is the point where the Pacific Ocean meets the Sea of Cortez.
It creates a unique contrast between deep blue waters and a rugged desert landscape.
At Land's End, you'll find the iconic rock arch, El Arco.
This popular spot offers breathtaking views of the Pacific Ocean and its surroundings, attracting tourists and locals alike.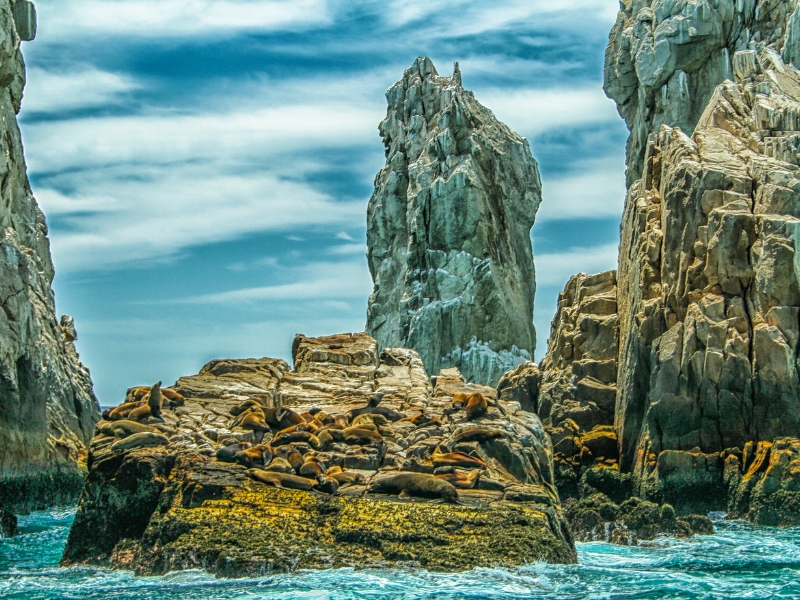 The area boasts beautiful beaches like Lover's Beach and Divorce Beach.
This is a habitat for diverse marine life, including sea lions, pelicans, and occasional whales.
The perfect location between the Pacific Ocean and the Sea of Cortez, Land's End is a must-see destination for any traveler visiting Los Cabos.
Land's End Cabo's Natural Attractions
The natural attractions at Land's End are truly one-of-a-kind.
El Arco de Cabo San Lucas, a towering rock formation, is a top destination for visitors seeking breathtaking views.
Pelican Rock and Lover's Beach are popular spots for water sports such as kayaking, snorkeling, and scuba diving.
Neptune's Finger and Pirates Cave offer unique opportunities to explore the area's geology and marine life.
Mount Somar
At the base of Land's End lies the magnificent Mount Solmar, a towering granite mountain that offers spectacular views of the Pacific Ocean and its surroundings.
With its rugged terrain and unique rock formations, Mount Solmar is a popular destination for hiking enthusiasts and nature lovers alike.
From the top of the mountain, visitors can enjoy panoramic views of the area, providing a truly unforgettable experience.
The mountain rises 1,130 feet above sea level and offers a challenging hike to the top.
The path to the top is challenging, with steep and rocky terrain, but the breathtaking view is worth it.
At the top, hikers are treated to breathtaking panoramic views of Cabo San Lucas, Sierra de la Laguna (mountain range), the Pacific Ocean, and the Sea of Cortez.
In addition to its natural beauty, Mount Solmar is also home to a variety of wildlife, including iguanas, lizards, and many bird species.
For those seeking a more tranquil experience, Mount Solmar is an excellent choice.
Additionally, the mountain is surrounded by a variety of high-end hotels and resorts, such as the Grand Solmar Resort and Spa and the Solmar Resort.
These luxurious establishments offer world-class amenities, such as spa services, dining options, and stunning pools.
The area around Mount Solmar is also home to a variety of local restaurants, cafes, and bars, making it the perfect destination for a day trip or a longer stay.
Overall, Mount Solmar is an incredible destination that offers something for everyone, from outdoor adventure to luxury relaxation.
Whether you're an experienced hiker or just looking to take in the breathtaking views, a trip to Mount Solmar is sure to be a Los Cabos highlight.
Historical Significance
Aside from its natural beauty, Land's End holds significant historical value.
Land's End Cabo has played a significant role in the history of the Baja California peninsula.
European navigators first explored the region in the 16th century, and the site was revered by the indigenous people of the region long before that.
The Cabo San Lucas Lighthouse, constructed in 1905, stands as a testament to the area's importance as a navigational landmark.
The Pericúes
For thousands of years, the region was home to the Pericúes, a group of indigenous people.
They were the original inhabitants of the area, living in the region and developing their unique culture over time.
The Pericúes were one of the few indigenous groups in Baja California Sur to have a semi-nomadic lifestyle, subsisting on fishing and hunting.
A trading post
Later on, the region became a major trading post for Spanish galleons traveling between Manila and Acapulco.
It provided a safe harbor for the ships to restock on supplies and fresh water.
Piracy
Land's End also played a significant role in the history of piracy.
Famous buccaneers like Francis Drake and Thomas Cavendish used the area as a hideout and ambush spot for Spanish vessels.
Today, visitors to the area can explore some of the caves and coves where these pirates once roamed, adding a touch of intrigue and adventure to their visit.
Modern Development at Land's End
Today, Land's End is a popular tourist destination that attracts visitors from around the world.
The local community has worked hard to manage the impact of tourism on the area's natural and cultural heritage. They have implemented sustainable tourism initiatives and conservation efforts to preserve the site for future generations.
In doing so, they have taken an active role in ensuring that Land's End Cabo remains a beautiful and valuable destination for years to come.
Visitors can discover a plethora of activities and services, including deluxe hotels, spas, fine dining, and entertainment.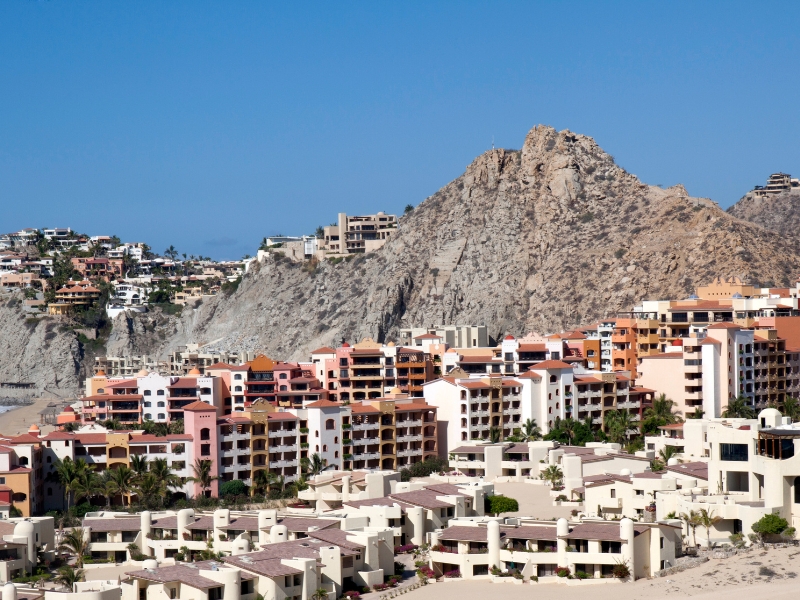 To sum up
Take a trip to this stunning area in Cabo San Lucas, and visit the marina and Mt. Solmar.
Experience the natural beauty, historical significance, and modern amenities that make it a top destination in Mexico.
Whether you're a first-time traveler or a seasoned adventurer, Land's End Cabo has something to offer.