The Cabo Sea Lion Colony
If you're looking for a unique experience during your visit to Cabo San Lucas, the Sea Lion Colony is a must-see.
Located in the Cabo San Lucas Marine Reserve, just in front of the arch and opposite Lands End tip this unique spot is home to sea lions and other ocean creatures. Let's dive deeper into the colony. We are going to explore what to expect during a visit and learn some interesting facts about these fascinating creatures.
Cabo san Lucas Sea Lions underwater
It also demonstrates beautifully why the Sea of Cortez is known to be "The Aquarium of the World".
https://youtu.be/p-YrzjX1Cfg
Video: Cabo Private Guide
What Are Sea Lions?
Sea lions are aquatic mammals that are known for their playful behavior, social nature, and loud barks. They are part of the Otariidae family, which includes fur seals and sea lions. Sea lions are excellent swimmers, and they use their flippers to "walk" on land. Sea lions are also known for their intelligence, and trainers often train them to perform in shows and aquariums.
Location of the Colony
The colony is located in the Marine Reserve, which is a protected area of water that covers over 3,000 hectares. Situated on the rocky outcroppings near Land's End, the southernmost tip of the Baja California Peninsula, the sea lion colony can be reached by taking a boat tour from the marina or from Medano Beach.
Click/tap zoom out once. The location is where the point says "Reserva de Lobos Marinos" (Sea Lion Reserve).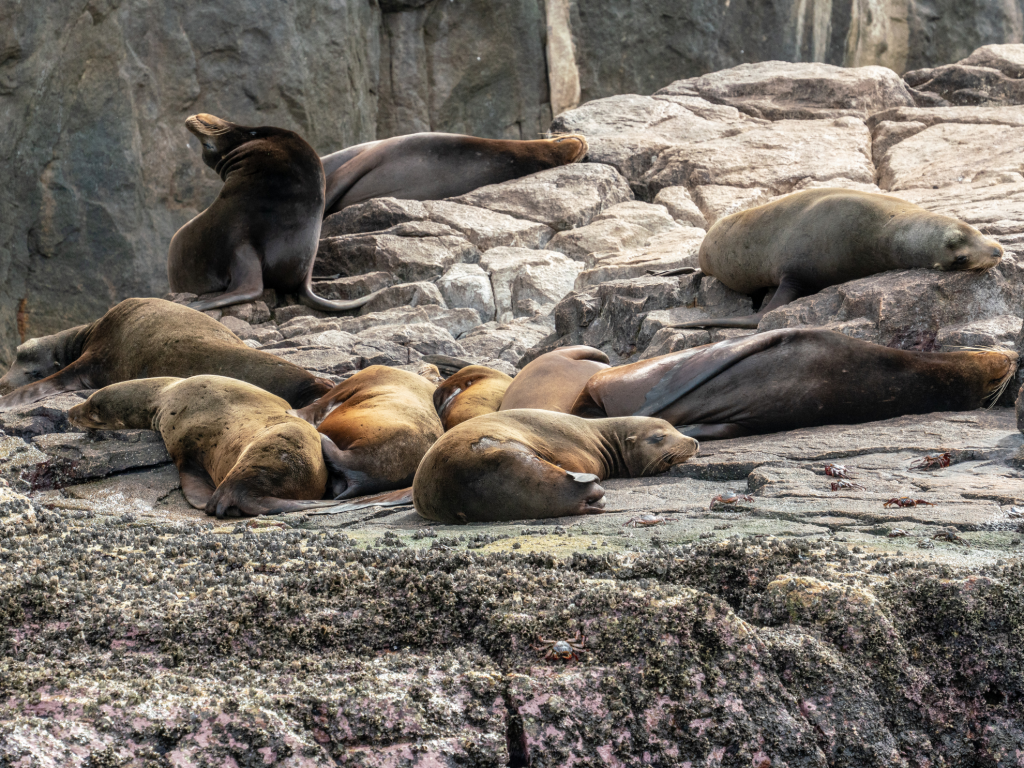 Visiting the colony
A trip to visit is an experience you won't soon forget. Most tours last about two hours, during which you'll have the opportunity to see the sea lions up close in their natural habitat. You can even go snorkeling with them if you're feeling adventurous! Tours typically include a knowledgeable guide who will share interesting information about the colony and the surrounding marine life. Additionally, safety is a top priority, and all tours include the necessary equipment and precautions to ensure a safe and enjoyable experience.
Conservation Efforts
The Cabo San Lucas Marine Reserve was established in 1973 to protect the area's rich aquatic life, including the colony. The reserve is home to over 800 species of marine animals. It makes to be one of the most biodiverse areas in the world. Organizations such as the Cabo Pulmo National Park and the National Commission of Protected Natural Areas work tirelessly to protect the reserve and ensure that its inhabitants remain safe and healthy
Sea Lion Colony Cabo San Lucas by Water Taxi?
Yes, you can also reach the Sea Lion Colony by water taxi. This is a great option for those who want to avoid crowds and have a more personalized experience.
Water taxis can be hired at the marina or at Medano Beach, and most operators will take you on a customized tour of the area. This is a great way to explore sea lions and sea creatures at your own pace.
Conclusion
The colony in Cabo bay is one of the best places in the world to see these fascinating creatures up close. Whether you choose to visit by boat or water taxi, you're sure to have an amazing encounter. Not only will you have the opportunity to see the sea lions in their natural habitat, but you'll also be supporting conservation efforts to protect this incredible area of the world. So what are you waiting for? Book your visit to Los Cabos today!
In summary, an excursion to the sea lion colony in Cabo San Lucas is an adventure that shouldn't be missed. Whether you're traveling solo, with a partner, or with your family, this is an adventure that will create lasting memories. You can enjoy snorkeling, swimming, and boat tours with stunning marine life and clear waters. The nearby marina is a great place to relax on the beach. Witness the wonder of the sea lion colony in Baja California Sur. Pack your bags now!