El Pescadero is a hidden treasure along the Pacific coast of Baja California Sur. It's a place where history meets natural beauty, and juicy mangoes are as much a part of the landscape as the scenic coastline.
This small farming village, developed by Jesuit padres in 1724, has a charm that's hard to resist. Ready to explore? Let's get started!
Short Summary:
Historical Background: El Pescadero's history dates back to 1724, a testament to its rich past.
Farming Community: The village is home to a small farming community, adding a rustic charm to the place.
Mangoes and More: Juicy mangoes and various other crops are grown here, making it a paradise for fruit lovers.
Scenic Coastline: The Pacific coastline adds a touch of natural beauty to El Pescadero.
Unique Charm: The unique blend of history, nature, and community makes the village appealing.
Discover the Hidden Gem El Pescadero
Tucked away along the Pacific coast in Baja California Sur lies a hidden gem waiting to be discovered – El Pescadero.
With its unique blend of natural beauty, historical charm, and vibrant culinary scene, this quaint village offers a unique destination for travelers seeking a less-trodden path.
El Pescadero's history dates back to 1724 when Jesuit padres developed it.
Today, it is a testament to its rich past, with a small farming community that adds to its rustic charm. The village is surrounded by lush farmland producing various crops, including juicy mangoes, a local favorite.
The scenic Pacific coastline further enhances the natural beauty of El Pescadero, making it a paradise for nature lovers.
Beaches of El Pescadero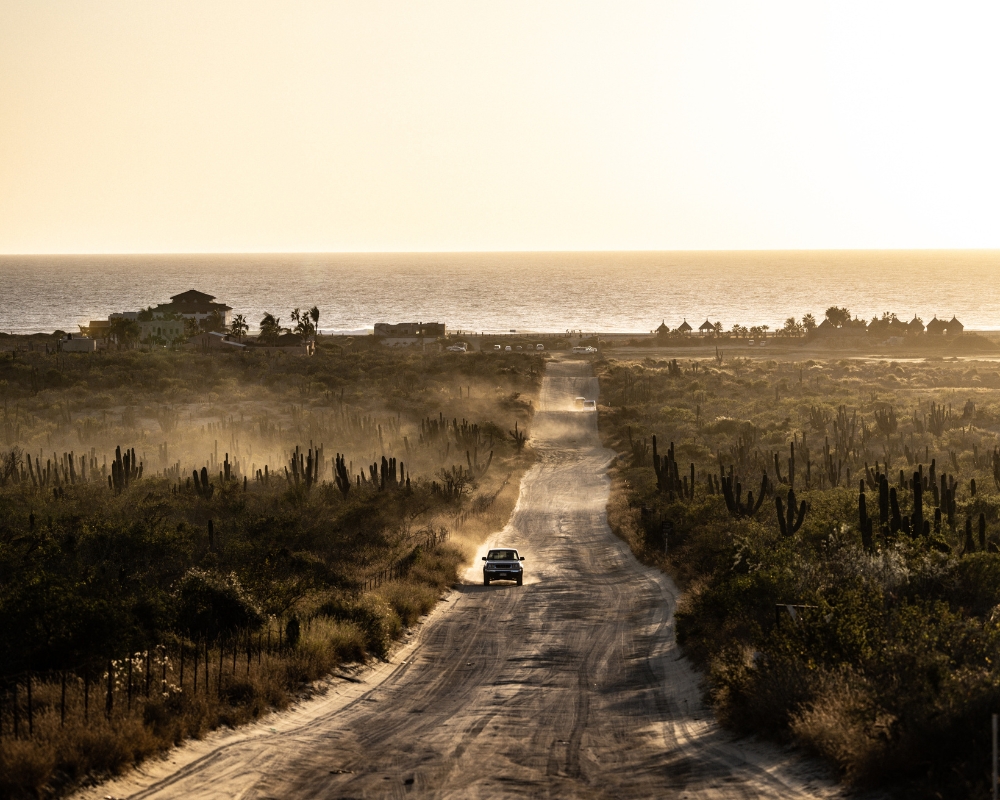 The beaches of El Pescadero, including Playa Los Cerritos, Playa San Pedrito, and Playa Las Palmas, each offer unique experiences.
Playa Los Cerritos is a haven for surfers, while Playa San Pedrito offers an ideal spot for camping under the stars.
Playa Las Palmas, on the other hand, is perfect for those seeking tranquility and relaxation.
Each beach has unique features and attractions, promising a memorable time for every visitor.
Culinary Experiences
El Pescadero boasts a vibrant culinary scene focusing on farm-to-table dining options.
Popular restaurants like Carnitas Machin and Palmar Pescadero offer a gastronomic adventure visitors shouldn't miss.
Whether it's the lively ambiance, the menu highlights, or the personal recommendations, each establishment offers a unique dining experience that reflects the local culture and flavors.
Exploring the Surrounding Areas
Just a short drive from here is the artistic village of Todos Santos.
At Todos Santos, you can explore various attractions and activities that offer a glimpse into the local culture.
Other places of interest are also within a reasonable distance from El Pescadero, making it an excellent base for exploring the surrounding areas.
While El Pescadero is a treasure trove of experiences, its location makes it an excellent base for exploring the surrounding areas. Just a short drive away is the artistic village of Todos Santos, known for its vibrant art scene, historic buildings, and the famous Hotel California.
Further afield, you can visit the Sierra de la Laguna Biosphere Reserve, a mountain range that offers stunning views and hiking trails for the adventurous. The reserve is home to diverse flora and fauna, making it a must-visit for nature enthusiasts.
The city of La Paz, about an hour's drive from El Pescadero, is another worthwhile destination. Here, you can stroll along the Malecón, visit the city's museums, or take a boat trip to the stunning Espiritu Santo Island, where you can snorkel with sea lions and explore hidden coves.
For those interested in history and culture, the ancient rock paintings in the caves of Sierra de San Francisco offer a fascinating glimpse into the region's past. This UNESCO World Heritage site is a bit further away but well worth the trip.
So, whether you're into art, nature, history, or just exploring new places, El Pescadero's location offers easy access to a variety of attractions and experiences.
Accommodation Options
For those who prefer camping, Casa Caravan and Pescadero Surf Camp are highly recommended. Each campground offers a range of amenities, unique features, and pricing options to suit different budgets. Alternatively, there are also casitas and beach camping options nearby for those seeking a different kind of accommodation experience.
Final Thoughts and Recommendations
With its unique blend of natural beauty, historical charm, and vibrant culinary scene, the village offers a particular destination for travelers. The opportunity to connect with fellow travelers and create lasting memories only adds to its appeal. I look forward to revisiting El Pescadero and experiencing its charm all over again.
Unveiling El Pescadero
El Pescadero is a hidden gem that offers a unique travel experience. From its beautiful beaches and vibrant culinary scene to its historical charm and natural beauty, there's something for everyone. So why wait? Embark on your journey and discover the magic of El Pescadero for yourself.
FAQ Section
Q: What is the best time to visit El Pescadero? A: The village can be visited year-round, but the best time to visit is during the dry season, from November to April.
Q: How can I reach El Pescadero? A: The village is easily accessible by car from La Paz or Cabo San Lucas. There are also bus services available.
Q: What are some must-try local dishes in El Pescadero? A: Take advantage of the local seafood, especially the fish tacos. The juicy mangoes from the local farms are also a must-try.
Q: Are there any local festivals or events in El Pescadero? A: Yes, The village hosts several local festivals throughout the year, including the Mango Festival in July and the Art Festival in February.
Q: Is El Pescadero suitable for families? A: Absolutely! El Pescadero offers a variety of activities suitable for all ages, making it an excellent destination for families.