Playa Acapulquito, also known as Old Man's Beach, is a charming beach located in San José del Cabo, Mexico. Nestled in a beautiful ocean cove, it is a paradise for surfers and is the host of many surfing competitions.
The surf spot is conveniently located in front of the Cabo Surf Hotel, making it a great spot for longboarders and all levels of surfers. The beach is also popular for snorkeling due to its clear waters.
Visitors have described it as a very pleasant beach with good waves, and it's a popular spot for families. In addition to surfing, there are also opportunities for gear rental and surfing lessons at the nearby Mike Doyle Surf School.
Old Man's Beach (Playa Acapulquito)
Brief Overview
Old Man's Beach, or as it's locally known, Playa Acapulquito, is a hidden gem nestled in the heart of San José del Cabo. This beach is a paradise for surfers and beach lovers alike, offering a unique blend of tranquility and adventure.
Location and Accessibility
Located in the beautiful region of Los Cabos, Mexico, Old Man's Beach is easily accessible and offers a serene escape from the hustle and bustle of city life.
Whether you're a local or a tourist, getting to this beach is a breeze.
By car
Regardless of whether you're heading to San José del Cabo (roughly 10 mins) or Cabo San Lucas (approximately 25 mins), you'll be navigating Carretera Transpeninsular/Mexico 1.
The best option is to use the Cabo surf hotel address: México 1, Tourist Corridor, 23406 San José del Cabo, B.C.S., Mexico.
By Taxi or Uber
Taxis and rideshare services like Uber are readily available in San José del Cabo. Simply input "Old Man's Beach" or "Playa Acapulquito" as your destination.
By bus
Buses run regularly from San José del Cabo to Cabo San Lucas. Ask the driver to let you off near Old Man's Beach (Playa Acapulquito). From the bus stop, it's a short walk to the beach.
History and Significance
Origin of the Name "Old Man's Beach"
The name "Old Man's Beach" might sound unusual, but it has a rich history.
It's a term of endearment among the surfing community, referring to the laid-back and friendly atmosphere of the beach.
Importance to the Local Community
Old Man's Beach isn't just a tourist spot; it's a significant part of the local community. It's a place where locals come to relax, surf, and connect with nature.
The Surfing Experience at Old Man's Beach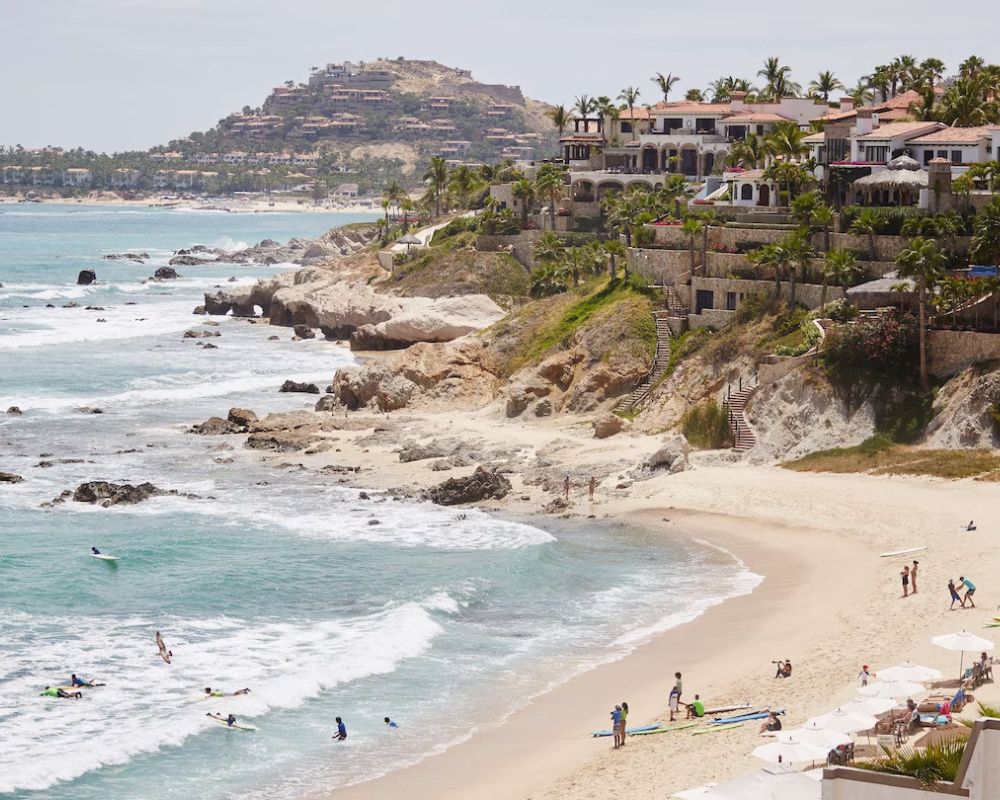 Description of the Surf Spot & highlights
The surf spot at Old Man's Beach is nothing short of spectacular. With its long waves and right-point break, it's a haven for longboarders and surfers of all levels.
Visitors highly value the beach for its surf-friendly waves and stunning landscape. Yet, due to the rocky terrain and sea urchins, it's not ideal for swimming or boogie boarding.
The beach is recognized as a great spot for long-board surfers and beginners looking to take lessons.
The Cabo Azul Surf Shop is noted for providing quality surfing lessons.
The beach's beautiful scenery and clear waters are also a highlight for many visitors.
Mike Doyle surfing school at Cabo Surf Hotel
You'll find the Mike Doyle Surf School and its Cabo Surf Shop nestled inside the Cabo Surf Hotel.
As a surfing enthusiast, you'll value the Cabo Surf Shop, housed within the Cabo Surf Hotel. Boasting a vast rental fleet of epoxy boards, you'll find long boards, short boards, soft boards, boogie boards, and Stand Up Paddleboards.
Surfing Competitions and Events
Old Man's Beach is more than just a surf spot; it's a vibrant hub for surfing competitions and events. From local contests to international championships, there's always something exciting happening here.
Surfing Lessons and Gear Rental at Cabo Surf Hotel
Whether you're a seasoned surfer or a beginner, the Cabo Surf Hotel located right in front of Old Man's Beach has got you covered.
Offering surfing lessons and gear rental, it's the perfect place to enhance your surfing experience.
Accommodation and Amenities
Cabo Surf Hotel
The Cabo Surf Hotel is a prominent feature of Old Man's Beach. Offering stunning views of the ocean, comfortable rooms, and top-notch services, it's the perfect place to unwind after a day of surfing and beach activities.
Other Nearby Accommodations
Despite the Cabo Surf Hotel's popularity, other nearby lodgings also cater to a range of budgets and tastes. From luxury resorts to budget-friendly hostels, there's something for everyone.
Amenities and Services Available
Old Man's Beach and its surrounding area offer a range of amenities and services. These include restaurants serving local cuisine, shops for beach essentials, and even surf schools for those looking to catch their first wave.
Visitor Experiences and Reviews
Highlights from TripAdvisor Reviews
Reviews on TripAdvisor paint a picture of a beach that's loved by many. Visitors often praise the beach's clean and peaceful environment, the friendly local community, and the excellent surfing conditions.
The Cabo Surf Hotel is highly praised by visitors for its excellent location, friendly staff, and quality services.
The hotel is located on a beautiful semi-private beach, making it a perfect spot for surfers and families.
It offers a full restaurant with great food and drinks, a spa, two pools, hot tubs, and a surfing school on-site. The rooms are well-appointed, facing the ocean, and the hotel staff is described as incredibly friendly and helpful.
The hotel's restaurant, the 7 Seas, is highly commended for its delicious food and attentive service.
Personal Stories and Experiences
There are countless stories of memorable experiences at Old Man's Beach. From families spending quality time together, to surfers catching their best wave, the beach holds a special place in many people's hearts.
One visitor, who spent 5 out of 9 days at the beach, praised it as the best surf beach for longboards and lessons.
Another visitor, who had a family day out at the beach, enjoyed a nice walk along the beach, appreciating the great ocean sounds on one side and the views of multimillion-dollar homes on the other.
A visitor who came for a surf described the beach as a great place to stay and surf, despite the parking being a bit tough.
Another visitor, who had a family trip, described the beach as having clear water and great waves, suggesting that snorkeling would be amazing during low tide. They also recommended bringing your own sun umbrella for shade.
Practical Information for Visitors
How to Get There
Getting to Old Man's Beach is straightforward. Whether you're driving, taking a taxi, or using public transportation, the beach is easily accessible from major areas in Los Cabos.
Best Time to Visit
While Old Man's Beach is beautiful all year round, the best time to visit depends on what you're looking for. For the best surfing conditions, the summer months are ideal. For a more peaceful experience, the off-peak season might be more suitable.
Conclusion
Recap and Final Thoughts
Old Man's Beach, with its stunning beauty and vibrant surfing scene, truly offers a unique beach experience. Regardless of whether you're a surfer, a beach enthusiast, or simply seeking a serene retreat, you should definitely consider exploring Old Man's Beach.