Introduction to Cabo Swimmable Beaches
Cabo Swimmable Beaches are the best Mexico has to offer!
If you're planning your travel itinerary, this guide is your ticket to the most family-friendly beaches in Cabo San Lucas.
From the best swimmable spots to the top beachfront hotels, we've got you covered. So, grab your sunscreen, and let's hit the beach in Cabo, where the sun always shines and the water always welcomes!
Cabo Swimmable Beaches: Short Summary
Understanding Cabo's Beaches: Cabo's coastline is a mix of swimmable and non-swimmable beaches – we'll help you tell them apart.
Flag System: Cabo uses a flag system for beach safety – we'll decode the colors for you.
Top Beaches in Cabo San Lucas: We've handpicked the best beaches in Cabo San Lucas for a perfect day out.
Beaches along the Corridor: Discover the hidden gems along the Los Cabos corridor.
Blue flag beaches: Beaches that meet and maintain stringent environmental, educational, safety, and accessibility criteria.
Why Some Beaches in Cabo are not Swimmable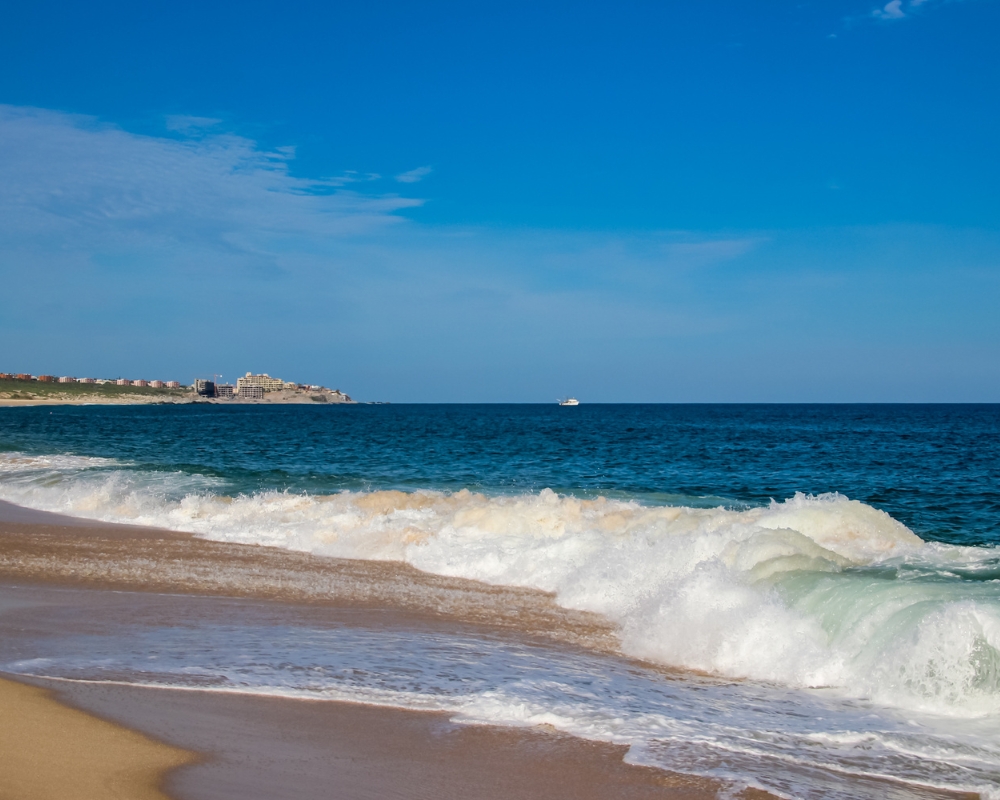 While Cabo San Lucas is renowned for its swimmable beaches, not all of them are safe for a dip. Particularly along the Pacific Coast, strong waves and rip currents pose a significant risk.
Consequently, some beaches are deemed unsafe for swimming.
Lifeguards and beach vendors are always on hand to warn tourists about these conditions, prioritizing their safety.
Interestingly, the location of your hotel can influence your beach experience in Cabo.
For instance, beach resorts along the Sea of Cortez tend to have calmer waters, making them more suitable for swimming.
On the other hand, hotels on the Pacific side of Baja California often face beaches with stronger currents and waves.
However, don't let this deter you from visiting Cabo San Lucas. Despite these challenges, the city boasts some of the best swimmable beaches in Mexico. You just need to know where to look.
For instance, Medano Beach, located near many resort spas, is known for its calm waters and is a favorite among families.
While some beaches in Cabo may not be swimmable, there are still plenty of options for those looking to enjoy the water.
With a little research and caution, you can find the perfect beach for your Cabo getaway.
Understanding the Flag System on Cabo's Beaches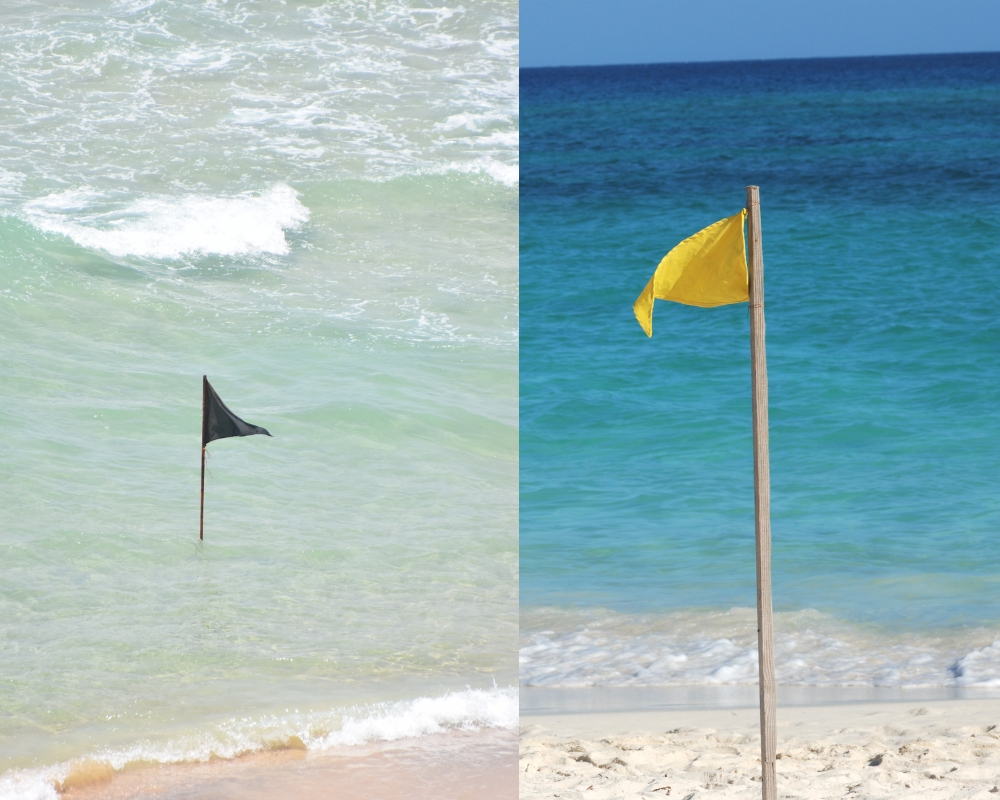 Understanding the flag system on Cabo's beaches is favorable for a safe and enjoyable beach experience.
This system, designed to help beachgoers identify the best swimmable beaches, is an essential safety feature that every visitor should understand.
Green flag
Green flags are a welcome sight for those looking to enjoy the warm waters of Cabo.
They indicate that the conditions are safe for swimming. So, when you see a green flag, you can feel confident that you're at a swimmable beach.
Red flag
On the other hand, red flags serve as a warning.
They signal dangerous waters, often due to strong currents or rough waves.
When a red flag is flying, it's best to stay on the shore and enjoy the beach from a distance.
Yellow flag
In addition to green and red, you might also encounter yellow flags, which indicate moderate surf conditions.
While it's still possible to swim under a yellow flag, extra caution is necessary, especially for those who aren't strong swimmers.
Black flag
Lastly, a black flag is the most severe warning, indicating extremely dangerous conditions. If you see a black flag, avoid entering the water altogether.
By understanding and respecting this flag system, you can ensure a safe and enjoyable beach experience in Cabo.
Blue Flag Beaches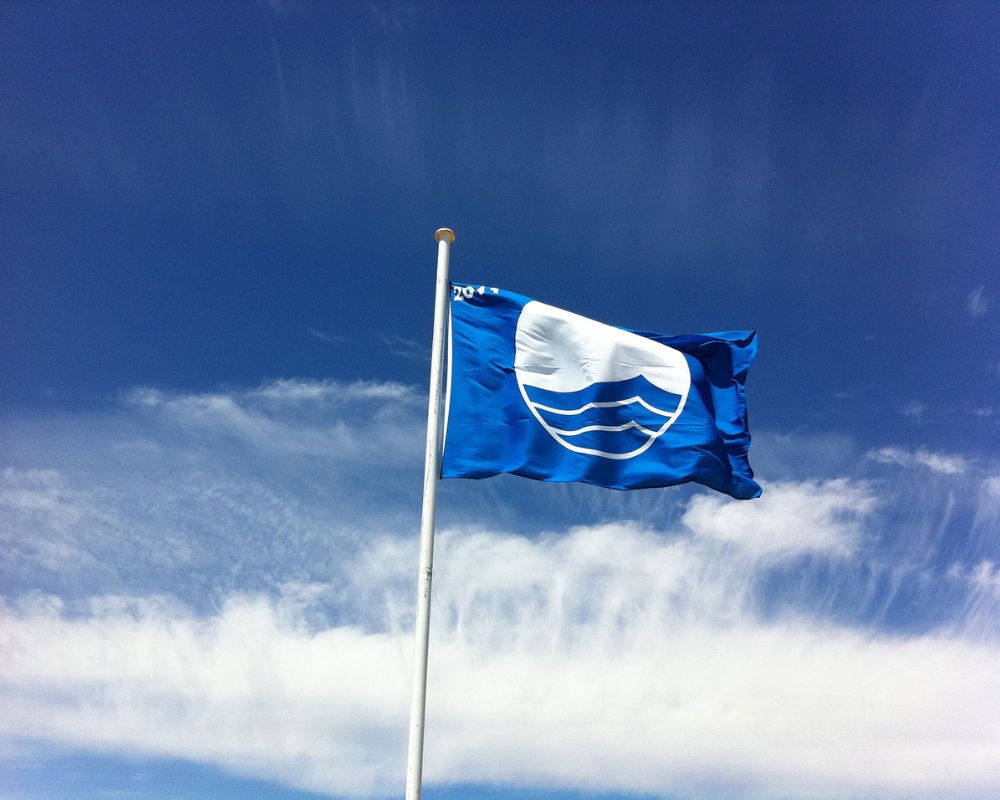 The Blue Flag is a prestigious award given to beaches that meet and maintain stringent environmental, educational, safety, and accessibility criteria.
It's a globally recognized eco-label that signifies a high-quality beach resort.
In Cabo, several beaches have earned this distinction, making them some of the best choices for visitors.
Chileno Beach, Santa Maria Beach, and Palmilla Beach are among the Blue Flag beaches in Cabo.
These beaches are not only beautiful but also safe and clean, offering excellent facilities and services.
They are perfect for a day of relaxation or for engaging in activities like snorkeling, surfing, jumping mata ray, and whale watching.
Chileno Beach, located closer to Cabo San Lucas, is a popular choice for both locals and tourists.
It's known for its clear waters and vibrant marine life, making it a great spot for snorkeling.
Similarly, Santa Maria Beach offers a tranquil setting for visitors to unwind and enjoy the natural beauty of Cabo.
Palmilla Beach, located in San Jose del Cabo, is another Blue Flag beach worth visiting.
It's a family-friendly beach with calm waters, making it a safe choice for swimming. Plus, its proximity to luxury resorts adds to its appeal.
By choosing to visit a Blue Flag beach, you're not only guaranteed a great beach experience but also contributing to the preservation of these natural spaces.
So, when planning your Cabo itinerary, consider these Blue Flag beaches.
Top Swimmable Beaches in Cabo San Lucas
Medano Beach
Among the swimmable beaches in Cabo San Lucas, Medano Beach stands out.
This popular beach is a hub of activity, offering a vibrant mix of beach clubs, restaurants, and water sports.
It's a great place to enjoy the sun, sand, and sea.
Lover's Beach
Next up is Lover's Beach, a secluded spot accessible only by boat.
Despite its remote location, it's one of the most visited beaches in Cabo, thanks to its calm waters and stunning views.
Cannery Beach
Cannery Beach, known for its calm waters and fine sand, is another excellent choice for swimming.
It's a quieter option compared to Medano Beach, making it a perfect spot for those seeking a more tranquil beach experience.
Swimmable Beaches in Los Cabos along the Corridor
Santa Maria Beach
Moving along the corridor, Santa Maria Beach is a must-visit.
Renowned for its clear waters and colorful fish, it's an ideal spot for snorkeling and swimming.
Chileno Beach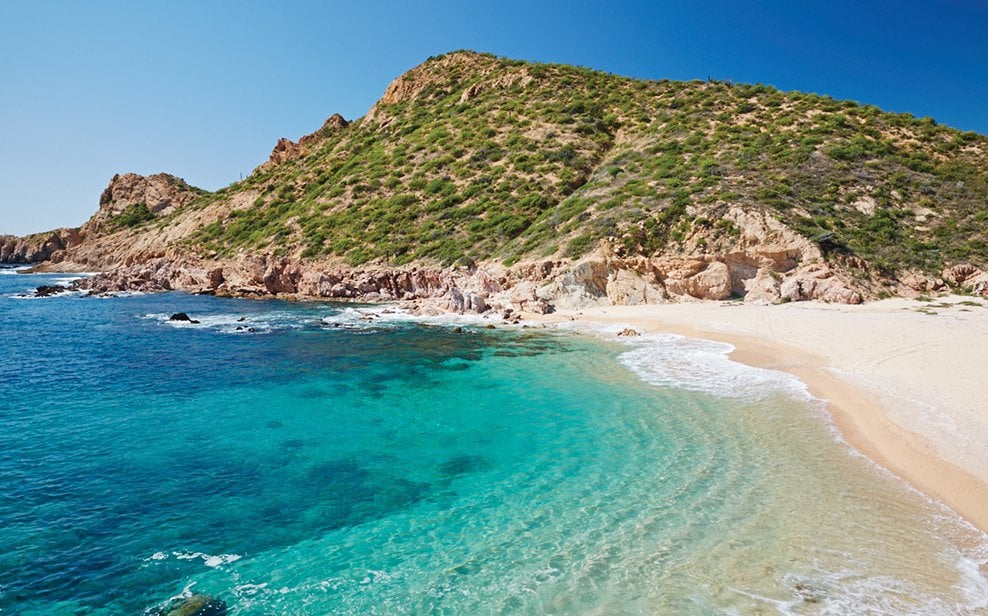 Chileno Beach, a Blue Flag-certified beach, is another gem along the corridor.
With its clean sand and sparkling waters, it offers a serene and enjoyable beach experience.
Tequila Cove
Tequila Cove, also known as Playa Bledito, is a tranquil cove backed by the Hilton Los Cabos.
It's great for swimming and offers a variety of water sports for adventure seekers.
Swimmable Beaches in San Jose del Cabo
Palmilla Beach
In San Jose del Cabo, Palmilla Beach is a top choice for swimmers.
This Blue Flag-certified beach is known for its soft sand and clear waters.
El Ganzo Beach
El Ganzo Beach, located in the resort community of Puerto Los Cabos, is another excellent spot for swimming.
It features a protected swimming area and a pristine beach.
Playa Acapulquito
Playa Acapulquito, though not ideal for swimming due to its rocky waters, is a top surfing spot.
It's a great place for beginners to learn how to ride the waves.
Safety Tips for Swimming in Cabo
When swimming in Cabo, safety should always be a priority.
Always heed the flag warnings, swim in areas with lifeguards, and be aware of sea critters like sea urchins and jellyfish.
Also, remember to protect yourself from the sun by wearing a hat, applying sunscreen, and staying hydrated.
Conclusion: Enjoying Cabo's Swimmable Beaches Safely
Cabo offers a variety of swimmable beaches for every type of beachgoer.
Whether you're looking for a bustling beach filled with activities or a quiet spot to relax, you'll find it in Cabo. Just remember to keep safety in mind, understand the flag system, and respect the local environment.
With these tips in mind, you're all set to enjoy the swimmable beaches of Cabo San Lucas and Los Cabos safely and responsibly.
Remember, the beauty of Cabo extends beyond its luxury resorts.
It lies in its golden sand beaches, clear waters, and the rich marine life that inhabits them.
So, grab your snorkeling gear, put on your beach hat, and get ready to explore the swimmable beaches of Cabo.
Happy basking!